Fram Museum Publications ~ Artifacts, Antiques, Collectables & Scientific Instruments ~ Aquila Publishing ~ L. M. Montgomery
About Aquila ~ Want Lists ~ Ordering ~ Selling to Aquila

Click to view Charles Van Sandwyk's reading of Canadian Content!
<![if !vml]>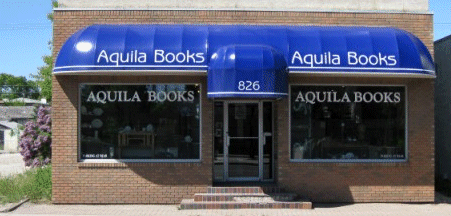 <![endif]>Welcome to the Aquila Books homepage.
Aquila Books specializes in books dealing with Polar Exploration, Western Canadiana, Mountaineering, the Canadian Pacific Railway, Early Voyages as well as many other areas. We also deal in antique maps and prints, historic photos, autograph letters, postcards, antique scientific instruments and antique bookcases.
In the following pages you may explore some of the items available at Aquila Books. This is, however, only a small sampling of what we have on store. If you have a particular interest please contact us to see what else we might have available.
Many of our items can also be found on ABE books (to browse our titles select 'List this sellers books')
Please contact us if you have any questions. Wants lists are always welcome. We are currently buying in both Calgary and Winnipeg—please contact us for further information.