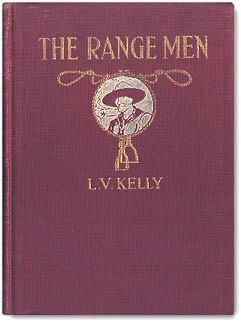 The largest and most diverse inventory of the store relates to all aspects of western Canadian history. This includes the following subjects: farming, ranching, immigration, mounted police, exploration, local history, fiction, Hudsons Bay Company and fur trade, ethnic history, native peoples, transportation history and the Canadian Pacific Railway and Canadian National Railway.

We have large diverse inventories of books on these areas in stock at all times. We also carry pamphlets and ephemera, photographs, manuscript material, art, maps and prints. Our inventory will start to appear online soon, but for now please contact us about specific items. We are aggressive buyers in this area and wish to purchase individual titles or entire collections. Soon we will also have a permanent want list online of material that we desire. We are happy to maintain want lists in this area.

Illustrated to the right is a first edition of the Canadian ranching classic THE RANGE MEN by L.V. Kelly. This is an example of the types of collectable ranching books that we have in stock. In addition to first editions like this example, we also stock reprints and reading copies of such material.

If you have any questions about a particular item feel free to contact us.