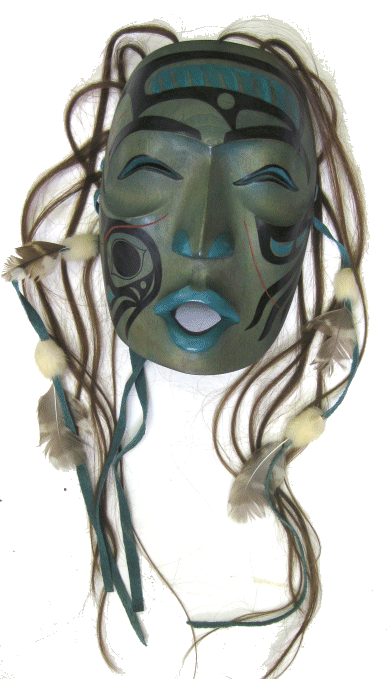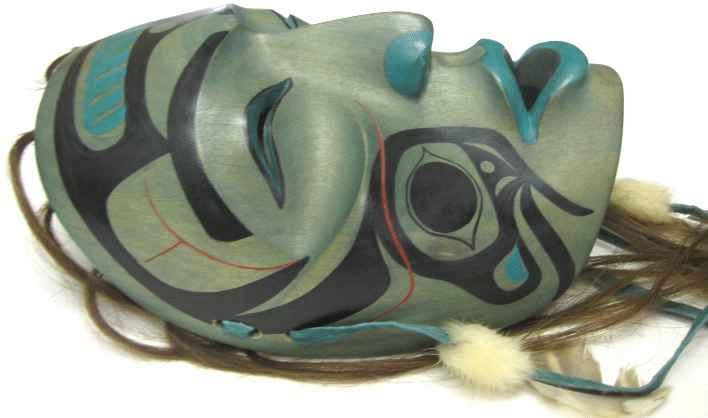 Morgan, Valerie.
Tsimshian Mask.
British Columbia: , [no date]. Fine. Original hand carved native mask. Measures 9" X 6" (with hair and strings hanging longer). Carved wood stained teal with black, red and turquoise decoration. Many long strands of hair and strings adorned with feathers hang down. A beautiful mask displaying closed eyes, open mouth and a serene facial expression.
Valerie Morgan is a Kwakwaka'wakw and Gitxsan artist from Kitwanga, British Columbia. She was a student of Gitxsan artist Ken Mowatt. She is also a member of the frog clan. Tsimshian (Tsim-she-yan, meaning "People of the Skeena") is a name that is often broadly applied to all northern BC Aboriginal groups speaking languages of the Tsimshian language family.
Aquila Books # 136530.....$2000.00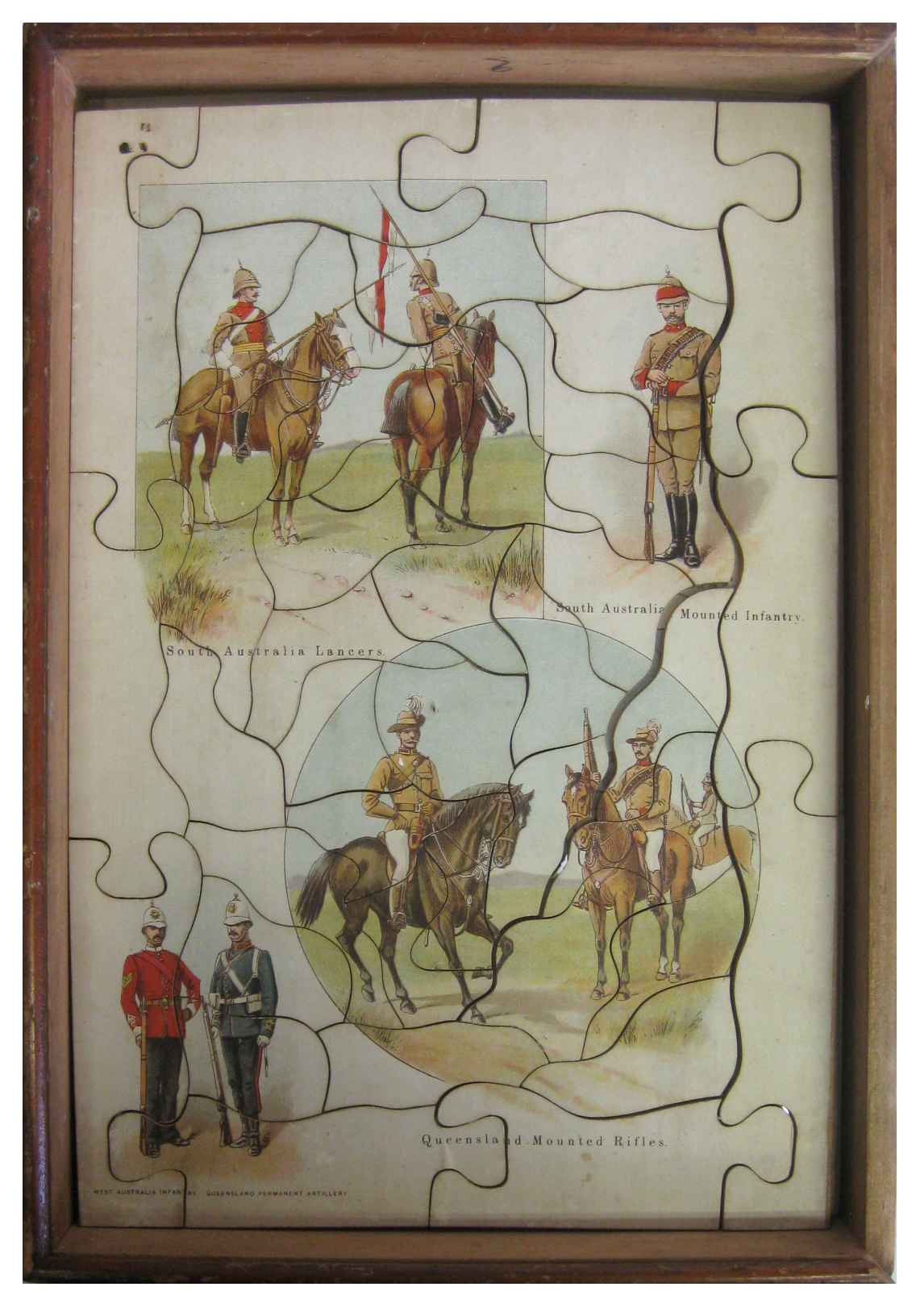 Simkin, R.
Our Indian and Colonial Forces.
New Double Dissected Puzzles. Untearable Dean's Gold Metal Series No 60 [Original Wooden Jig-Saw Puzzle].
London: Bean and Son, [circa 1900]. Very good. Set of four semi-interlocking jigsaw puzzles with over 150 pieces. 8 chromolithograph sheets mounted one to each side of each puzzle. Breaks to two of the pieces which have been professionally repaired. Other than a bit of light soiling the pieces are in excellent condition. Puzzles measure 15" X 10.5" (38 X 26.5 cm). Housed in slightly larger wooden box with sliding lid and illustrated chromolithograph title laid down on lid. Box shows some general spotting and wear. Large booklet contains loosely the eight images that are mounted on the puzzles as well as a pictoral map outlining the colonial regions. These sheets are chipped and worn at edges with some soiling.
Richard Simkin was a British artist and illustrator of military uniforms. His work appears published by Dean and Co. From 1900 onwards. A beautiful military puzzle which shows pictures of Royal Canadian Artillery winter kit, New South Wales Lancers, Madras Lancers, Hong Kong Native Police, Trinidad light infantry, Royal Niger Hausa, 1st Punjab, 2nd Bombay Lancers and the Bombay infantry as well as many others. Puzzles and illustrations depict beautifully detailed uniforms, portraits and horses.
Aquila Books # 136595.....$1250.00