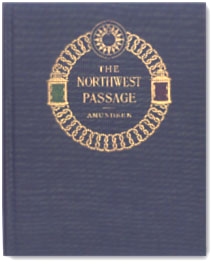 Aquila books maintains a large selection of books dealing with arctic exploration and a smaller inventory of material on the Antarctic. In addition to books about the arctic we maintain a selection of autograph letters, pamphlets, photographs and maps. Select new books are also stocked. Prices range from $10.00 to several thousand dollars. Much of our inventory relating to polar exploration can be found on ABE books (to browse our titles select 'List this sellers books').

Our POLAR CATALOGUES also provide a nice example of the type of items we buy and sell.

We are pleased to be the official North American agents for Fram Museum Publications which provide excellent information on polar exploration.

We will respond to specific requests and will quote as books become available. We also maintain customer want lists in this area. We encourage serious customers in this area to call and discuss their individual needs with us as many of our polar items are not catalogued.



Amundsen, Roald - 'THE NORTHWEST PASSAGE' - BEING THE RECORD OF A VOYAGE OF THE SHIP GJOA 1903-1907. London: Archibald Constable 1908.


If you have any questions about a particular item feel free to contact us at our email address.
---

Aquila books is always interested in purchasing books about Polar Exploration.
See our WANT LIST of items that are of particular interest to us.
---
[ HOME | ABOUT AQUILA | BOOKS | NICO ISRAEL | INSTRUMENTS | MAPS/PRINTS | MANUSCRIPTS | EPHEMERA | PUBLISHING | ORDERING | HISTORIC PHOTOS | CATALOGUES |