Maps

Aquila books specializes in maps of Western North America and the Arctic. We also maintain a good inventory of world maps from the 16th century to the early 20th century.
We rarely catalogue in this area and it is best to view our inventory at the shop.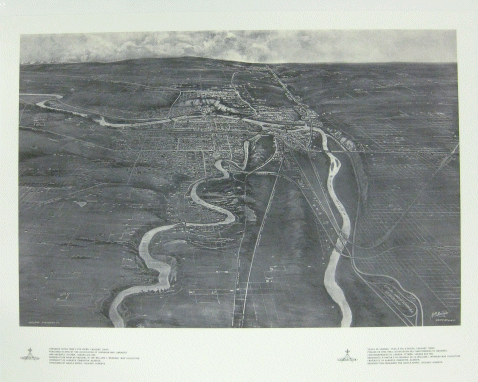 Burton, H. M.
Canadian Cities: Birds Eye Views.
Calgary [1910]
Ottawa: The Association of Canadian Map Libraries and Archives, 2004, reproduction. Fine. Illustrated 1910 map facsimilie. Grayscale with relief shown by shading. Major rivers and roadways are labelled. Printed on eggshell paper. In fine condition.
Reproduction from an original in the William C. Wonders Map Collection, University of Alberta, Edmonton, Alberta. Sponsored by Aquila Books in Calgary, Alberta. Information below map is in English on the left side and French on the right. Map shows Calgary in 1910 whith the majority of buildings clustered around downtown and sparsely elsewhere. Very interesting when compared with it looks like today.
Aquila Books # 134736 - $25.00

Prints
If you have any questions about a particular item please contact us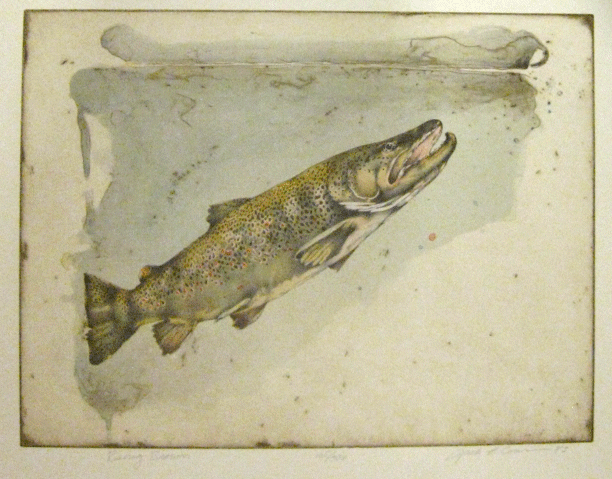 Cowin, Jack. Rising Brown Aquila Books # 134705 - $750
1983, limited edition 165/300. Fine. 22" X 30" (55.8 X 76.2 CM) paper with image measuring 18.75" X 25" (47.6 X 63.5 cm). Original Lithograph print. Clean page and clear image. Only very slight rippled to right side edge, else as new condition. Title, edition number, artists signature and date beneath the image in pencil. A beautiful piece.
Brown trout depicted in rich, natural tones. Jack Cowin is one of North America's most celebrated angler artists. Cowin's background in medical illustration (in addition to his art education) are evident in the fine and meticulous attention to detail. After the production of his limited edition prints Cowin destroys to the plate to be sure that each edition remains the only edition. The recipient of countless honours and awards Cowin currently resides in the Canadian province of Saskatchewan.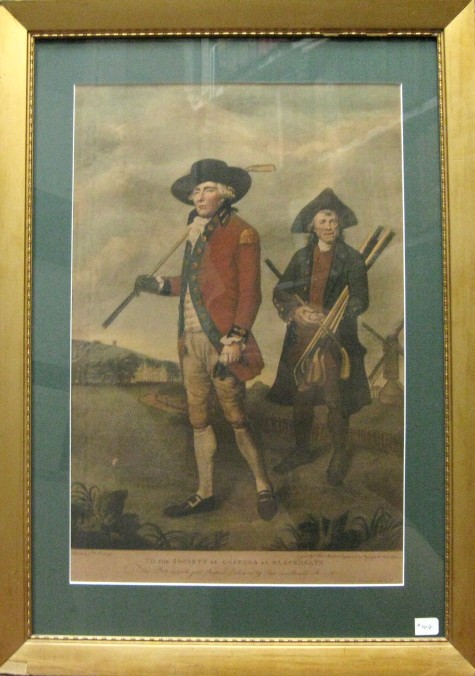 Abbell, L.F. To the Society of Goffers at Blackheath, This Plate Is with Just Respect Dedicated by Their Most Humble Servant
19th Century Copy of Rare 18th Century Print, 1790. $800
Colour print. 46 x 29 cm (18 x 11.5 inches). Framed in a gilt frame measuring 61 x 43 cm
(24 x 17 inches) with some wear and chipping to corners and green matting.
The original "To the Society of Goffers at Blackheath" was based on a painting by Lemuel Francis Abbott (1760-1802) and was issued by Valentine Green as a Mezzotint print, circa 1790. It is one of the first golf portraits ever published, and the Blackheath golf course depicted in the print was a primitive five-to-seven-hole golf affair, its members being wealthy merchants. Based on the records that survive from those early days, the Blackheath club had 45 members at the time depicted in this print. The print itself shows William Innes (1719-1795), Blackheath's captain, and an unnamed Greenwich Hospital Naval pensioner serving as caddie. Originally Painted by L. F. Abbell. Engraved by Gwen Mezzatinto Engraver to his Majesty & the Elector Palantine.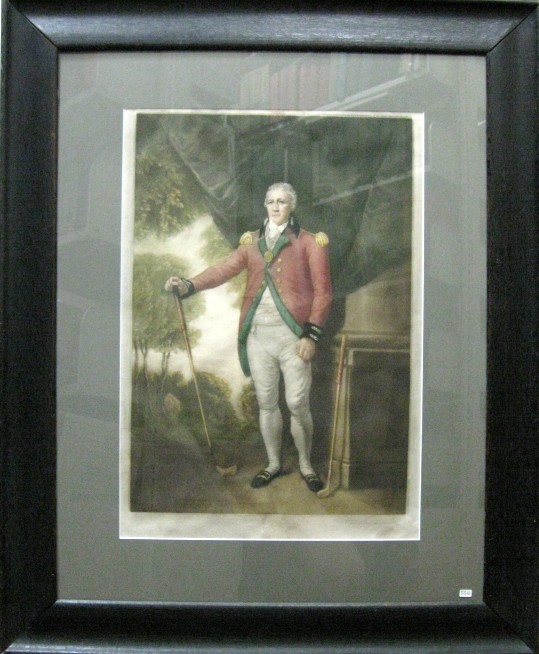 Abbott, Lemuel Francis.
Henry Callender Esq circa 1916
1500.00
Colour Litho print. 51 x 38 cm (20 x 15 inches). In black painted frame measuring
84 x 71 cm (33 X 28 inches) with green-grey matting. Frame is somewhat worn.
Golfer Henry Callender, one of the pioneers of golf in England, is depicted in the Field Marshall's uniform of the Blackheath Society of Golfers. This style of uniform is still worn by the present holder of the post on formal occasions. It is thought that the term Field Marshall was used at Royal Blackheath before the military use in the British army. The two golf clubs illustrated are still in the collection of Royal Blackheath Golf Club. Engraved by Walter Alfred Cox (1862-p.1894).