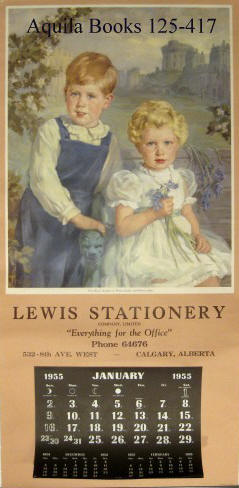 "Everything for the Office" Lewis Stationary Company, Limited 1955 Calendar
532- 8th Ave West, Calgary, Alberta. Phone 64676.
Depicting an image of their Royal Highnesses, Prince Charles and Princess Anne, as children.
Artist: Trapp. Total size 34" X 16". Image of the Prince and Princess 18.5" X 15".Original 1955 Calendar for the month of January. Lithographed. Original metal hanger. Complete, original calendar block. In very good condition with very slight wear and a couple small tears on edges. Bright colours, with very light rippling. A really lovely calendar.
Poster shows Prince Charles and Princess Anne as children sitting on a bench in the sunshine with flowers and a castle in the background. A cheery painting. Rare in this condition with complete original calendar block.
$150.00 U.S.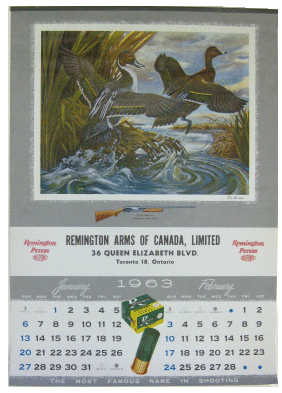 Remington Arms of Canada, Limited
1963 Original Calendar
Toronto, Ontario: Remington Arms of Canada, Limited, 1963. 6pp. Near fine. 20" X 14" (50.8 X 35.5 cm). Six pages each with a large colour illustration covering top half and two calendar months printed on bottom half. Pages are attached with gray metal hanger at top. Slight soiling and small amount of wear to left edge of front page; also slight bend to hanger- else in fine condition. Background of calendar is white and silver; images are richly coloured. A great piece of hunting ephemera.
Calendar put out by Remington Arms of Canada which was created out of the larger American company in 1956. The Canadian subsidiary was later dissolved in 1981. The calendar shows richly coloured images of commonly hunted animals as well as an image of the Remington gun that would be used for hunting said animals beneath. Images include ducks, wolves, grouse and deer.
Aquila Books # 134727 - $250.00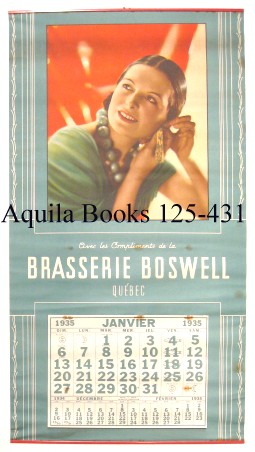 "Avec Des Compliments de la Brasserie Boswell, Quebec" 1935 Calendar
Artist Unknown. 29" X 15.5". Original calendar poster with red metal edge hanger on both bottom and top edge. Several small rust stains from staples and some rippling. In very good condition and still has whole date pad (rare). A fun, brightly coloured and elegant poster.
Brasserie Boswell, or Boswell Brewery, operated in Quebec city between 1852 and 1971. In 1852 the brewery moved from a smaller building to rue Saint-Vallier where they operated in the ruins of the Palace of the islet which had previously burned. This location is also that of the King's Brasserie, open from 1670 to 1675. Boswell did a large amount of advertising in newspapers and magazines, radio and display. The brewery also paid strong attention to providing promotional products for its customers such as glasses, ashtrays, bottle opener, lighter and calendars such as this one. Boswell beer was so popular that it earned a place in everyday language with the phrase "Ítre en Boswell" in the sense of upset.
$150 U.S.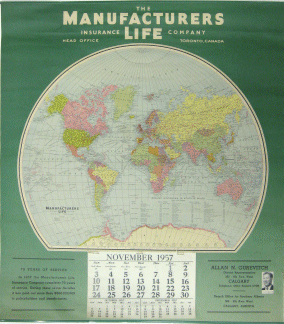 The Manufacturers Life Insurance Company
Original 1957 Calendar Displaying World Map
Toronto/Calgary: The Manufacturers Life Insurance Company, 1957. Very good. 25.5" X 22.5" (65 X 57 CM) original calendar. Green metal hanger at top and bottom. Light wear and creasing at side edges. November and December remaining in date block with small piece of paper left in staples from where the other months were torn out. Green background featuring a round shaped, colourful map of the world. The green is slightly faded near the bottom. An interesting piece of ephemera. Map shows airline distances in statute miles.
The Manufacturers Life Insurance Company was started in 1887. The calendar commemorates 70 years of service and notes that during these years the company has paid out more than $600, 000, 000 to policyholders and benificiaries. The calendar bears the information of Allan N. Gurevitch in Calgary, Alberta (the district representative for Southern Alberta) as well as a small photograph of the agent.
Aquila Books # 134723 - $125.00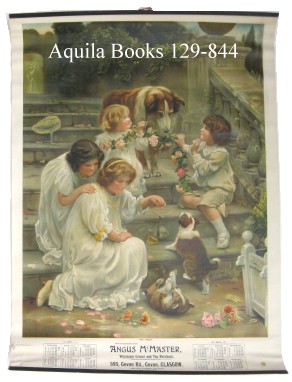 "Try Again" 1911 Calendar
With Compliments from Angus McMaster Wholesale Grocer and Tea Merchant
595, Govan Rd., Govan, Glasgow. Post Office Telephone, 106
Artist unknown. Total size 21.5" X 30". Image 19.25" X 25.25". Beautiful richly coloured original calendar in very good condition. Small printed date blocks at bottom (January-June and July-December 2011). Slight discolouration to edges. Light buckling and crinkling, especially near bottom. Wooden hanger at top and bottom.
Craig & Mackie.
A large calendar showing a lovely image of angelic looking children, playing with flower garlands and surrounded by puppies, sitting on stone steps. The soft image displays carefree youth, purity and abundance.
$275 U.S.
Only Perfect Flour Makes Perfect Bread.
N.T. Swezey's Son & Co. Flour 1901 Calendar
224 Produce Exchange. New York. Est. 1835.
The Southwestern Consolidated Milling Co
Ottman Lith Co. N.Y.
Artist Unknown. Original Calendar 16.5" X 23.5" in heavy wooden frame 22" X 28". In very good condition. Some small light stains and minor wrinkling. Small date block printed onto calendar below image (not tear off style). A beautiful vintage image.
N. T. (Noah Terry) Swezey was a flour merchant in New York City. He ran a successful business for over forty years at 176 South St., and was one of the founders of the New York Produce Exchange. The calendar shows an image of two angelic children, one Caucasian and one African American playing with a barrel and sack of flour.
$750 U.S.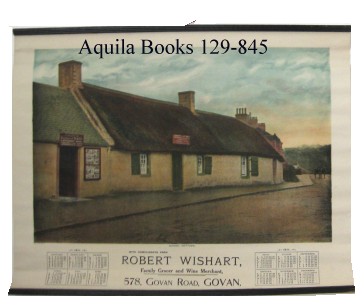 "Burns' Cottage" 1911 Calendar
With Compliments from Robert Wishart, Family Grocer and Wine Merchant
578, Govan Road, Govan.
Artist Unknown. Total size, 21" X 18". Image size, 12.75" X 19.5". In very good condition with buckling at edges and some wear to bottom left edge. Wooden hangers at top and bottom. Small printed date blocks below image (Jan-June and July-Dec. 1911). A lovely poster.
Displays an image of 'Burns' Cottage' in Alloway, South Ayrshire, the birthplace of Robert Burns, the Scotish poet and lyricist, in 1759. A reproduction of Burns' Cottage was built in Atlanta, Georgia in the same year as this calendar. The original cottage where Burns lived for the first 7 years of his life, was later turned into a pub and now is a fully restored museum dedicated to the poet.
$225 U.S.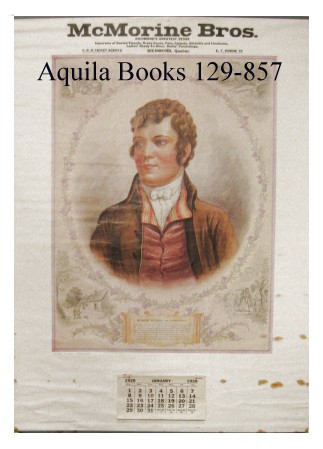 "Robert Burns: The Ayrshire Bard"
1927 Calendar
Mcmorine and Bros Richmonds Greatest Store Importers of Scotch Tweed, Dress Goods, Furs, Carpets, Oilcloths and Linoleums, Ladies' Ready-To-Wear, Gents's Furnishings. C.P.R. Ticket Agents. Richmond, Quebec. E. T.
Artist Unknown. Entire Calendar 27.5" X 20". Image 19.5" X 14.75". Calendar block 3" X 6". Originals calendar. Metal hanger at top and bottom. Rare with complete calendar block. Several rust marks from hanger near bottom right hand corner. Some wrinkling and minor wear at edges.
Calendar shows image of the Scottish poet and lyricist, Robert Burns, surrounded by a garland of thistles with small black and white illustrations in each corner. The square image is set on a white background with calendar block beneath. Write up about Burns below the portrait.
$400 U.S.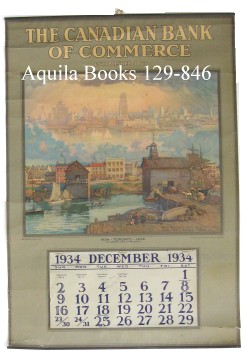 1834 - Toronto - 1934
100 Years of Progress
Toronto from Coopers Wharf Foot of Church St.
The Canadian Bank of Commerce
Artist: A.B. Kelly, from a drawing by W.H. Bartlett, 1830. Entire calendar 18" X 26". Image 15" X 12.5". Copyrighted 1933 the Canadian Bank of Commerce. In good condition. White wrinkle lines coming from edges, a few which have cracked. Tear at bottom left and bottom right corners. Minor rippling. Date pad only contains December, the rest have been removed. Metal hanger at top and bottom.
Shows a lovely view of Toronto from Coopers Wharf which was finished in 1817. Painted with soft pinks and blue which set the city in a very romantic light. The Canadian Bank of Commerce merged with the Imperial Bank of Canada in 1961 to form the Canadian Imperial Bank of Commerce (CIBC).
$150 U.S.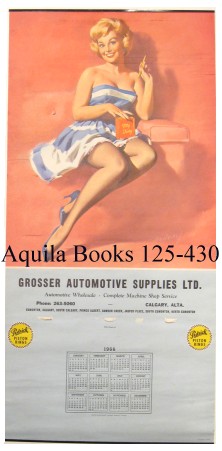 "Grosser Automotive Supplies Ltd. "
Pin-Up Girl Calendar for 1966
Automotive Wholesale - Complete Machine Shop Service. Calgary, Alta. Pedrick Piston Rings
.
Artist: Bill Medcalf. 33.5" X 16". Original calendar with metal hanger along top and bottom edge. The actual date pad has been removed. A full calendar for the year still remains printed on the actual poster. Rolph-Clark-Stone. In good condition with some horizontal creases near top. A fun, retro calendar.
Advertisement calendar for an Alberta auto supply company. Uses an pin-up style image of a girl painted by Bill Medcalf who was famous for more than twenty years of beautiful pin-ups for calendars.
$150 U.S.