---
Please note: All prices are in U.S. Dollars.
We maintain a large selection of images related to many different subject areas. We are always looking to purchase original images pertaining to the subject matters that we deal in. If you are interested in buying or selling, please contact us or phone: (403) 282-5832.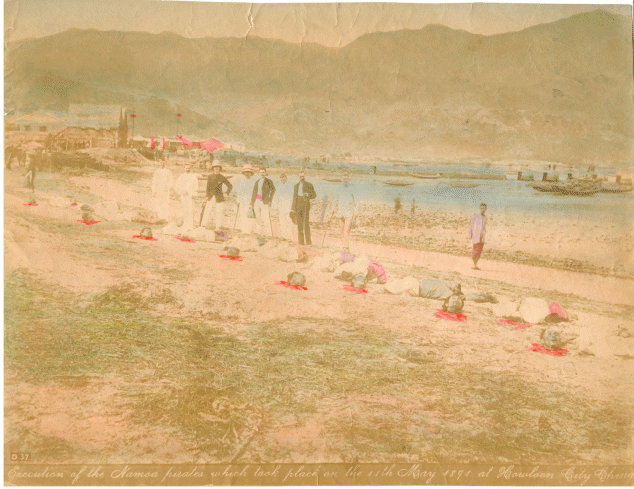 Unknown Photographer.
Execution of the Namoa Pirates Which Took Place on 11th May 1891 at Kowloon City China
[Original Hand-Coloured Photograph]. Kowloon City: , [circa 1891]. Very good. Original hand-coloured sepia toned photograph. 20.5 X 27 CM. Printed on thin paper. Some light creasing to image with a few small closed tears at edges. Descriptive title beneath. Hand-colouring is somewhat crude.
Image shows several men standing proudly over several more who have been beheaded. The ocean is visible behind them.
The photograph captures the public execution that occurred on the 11th May when fifteen prisoners were beheaded at Kowloon by the Chinese authorities, amongst the number being six Namoa pirates, including the three leaders of the gang, one of the men being the captain of the junks on board which the pirates put their plunder. One of the leaders decapitated, named Lai A Tsat, was a man whose boldness and cunning in carrying out piracies had long made him a terror both at sea and on shore. The general atrocity of the image is underscored by the rich red hand-colouring that highlights the pools of blood surrounding the decapitated heads.
Aquila Books #135201 - $400.00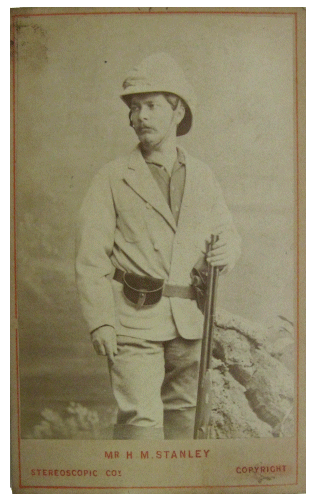 The London Stereoscopic & Photographic Company.
Mr. H. M. Stanley
[Original Carte-De-Visite].The London Stereoscopic & Photographic Company, [no date]. Very good. Original carte-de-visite. 9.8 X 5.8 CM image affixed to slightly larger card. On the card, surrounding the photograph is a red linear border with title beneath. Light soiling to card in a few places with only one spot of soiling on the photograph itself (to the top left). Photographers information and decoration on back of card.
Portrait of Henry Morton Stanley. Stanley was a Welsh American journalist and explorer famous for his exploration of central Africa and his search for Scottish missionary and explorer David Livingstone. Upon finding Livingstone, Stanley allegedly uttered the now-famous greeting, "Dr. Livingstone, I presume?" Stanley is also known for his discoveries in and development of the Congo region. He was knighted in 1899.
Aquila Books # 135203 - SOLD $300.00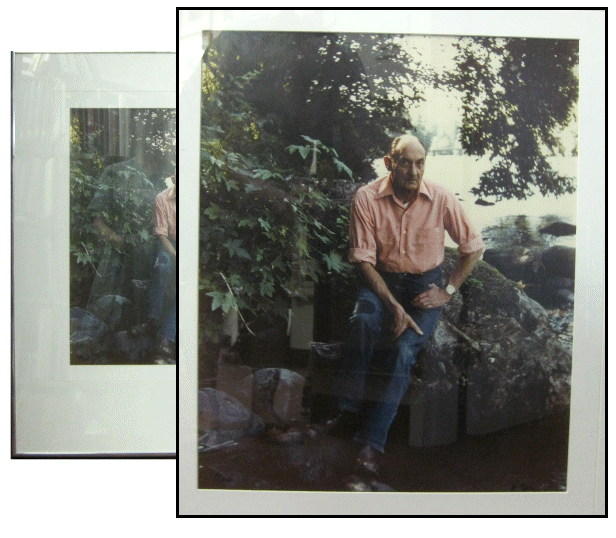 McDonald, R.
Portrait of Roderick Haig-Brown
[Original Colour Photograph]., [circa 1970], 5/1000, limited edition. Fine. Original colour photograph. Signed by the photographer on the bottom right. Edition number to the bottom left corner. Images measure 19" X 15.5" (48 X 39.5 CM) in 30" X 24" (76 X 61 CM) thin brushed silver frame. White matting with simple embossed border. A nice portrait.
Roderick Haig-Brown (February 21, 1908 — October 9, 1976) was a Canadian writer and conservationist. In 1953 Haig-Brown received an honourary LLD (Doctor of Laws) from the University of British Columbia. His books for younger readers won several awards, including the Governor General's Award for "Saltwater Summer" (based on his experience salmon fishing off northern Vancouver Island). A prolific and celebrated author on many wildlife related topics the importance and influence of Haig-Brown is recognized world wide, though no where more so than his home province of British Columbia where a mountain, park and Residence hall have been named in his memory.
Aquila Books# 135175 - $200.00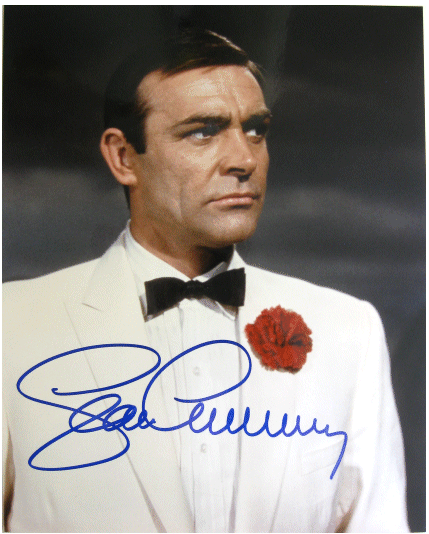 Signed Photo of Sean Connery.
[no date]. Fine. Colour 8 1/2"x10" Kodak photo. Signed in blue marker at bottom across his jacket (signature is fairly large).
Image showing a classy Sean Connery from one of the James Bond movies. He is shown in a white suit jacket and shirt with a red carnation and black bow tie. With small certificate of authenticity also included from "Hollywood Dreams Agent". A great piece of James Bond related ephemera.
Aquila Books # 134262 - $250.00

Last Update: July 15th, 2013
[ HOME | ABOUT AQUILA | BOOKS | NICO ISRAEL | INSTRUMENTS | MAPS/PRINTS | MANUSCRIPTS | EPHEMERA | PUBLISHING | ORDERING | HISTORIC PHOTOS | CATALOGUES |