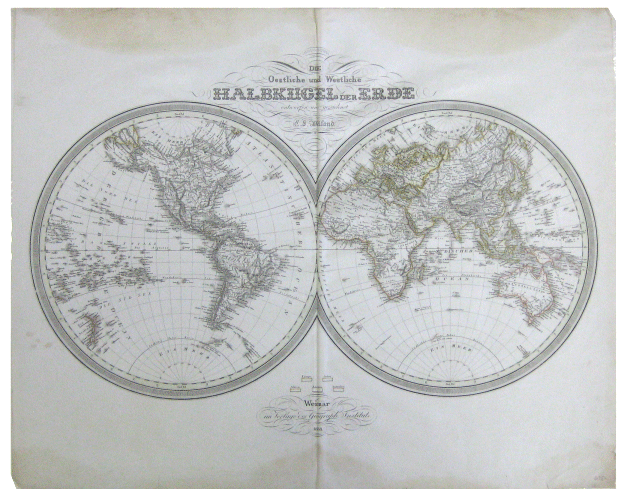 Above- full map, Below- detail closer up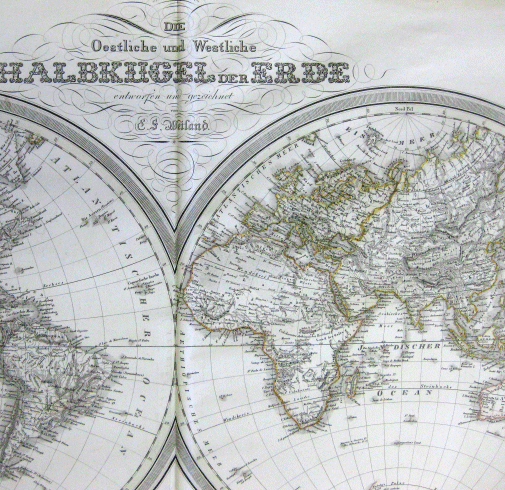 Weimar Im Verlage Des Geograph Instituts.
Die Oestliche Und Westliche Halbkugel Der Erde Entworfen Und Gezeichnet Von E. S. Weiland
[Original 1838 World Map].Weimar, 1838. Very good. 21" X 26.5" (53.34 X 67.31 cm). All continents except for America have been outlined in colour by hand (in oranges and yellows) with legend beneath. Subtle greenish tinge to the border surrounding each circle. Deep creasing down middle of map (vertically). Some light creasing, small closed tears and chipping to map, mainly near edges; as well as slight rippling across the page. Yellowish discolouration to bottom and top edges (visible a couple of inches into the page), however this not intrusive to the map or decoration.
World is shown split into two circles attaching at the center (With America and part of Australien on the left and Africa, Europa and Asien to the right). Delicate line decoration surrounding title and publication information. A beautiful antique map.
Aquila Books # 134800 - $675.00