If you wish to sell something in this category, looking for something specific you do not see or have any questions please contact us. When inquiring regarding a specific piece please provide us with the Aquila Books number listed below the item

Arctic Maps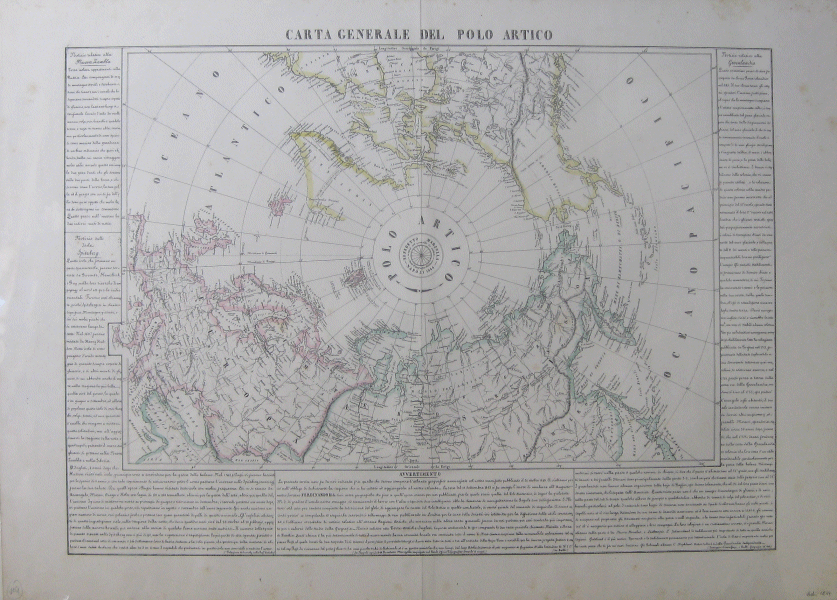 Marzolla, Benedetto.
Carta Generale Del Polo Artico.
[Original Hand-Coloured 1844 Map].Napoli: Benedetto Marzolla, 1844, Original hand-coloured 1844 map. (Map) Very good. 20.5" X 28". (52 X 71 cm). Detailed lithographed map on thick paper. Delicate, bright and crisp hand done outlines. Some light foxing, mainly in margins. Vertical crease down center. A beautiful map.
Detailed map of the North Pole/Arctic. Surrounded on bottom and both sides with elegant Italian text. Atlas map.
Aquila Books # 136473.....$900.00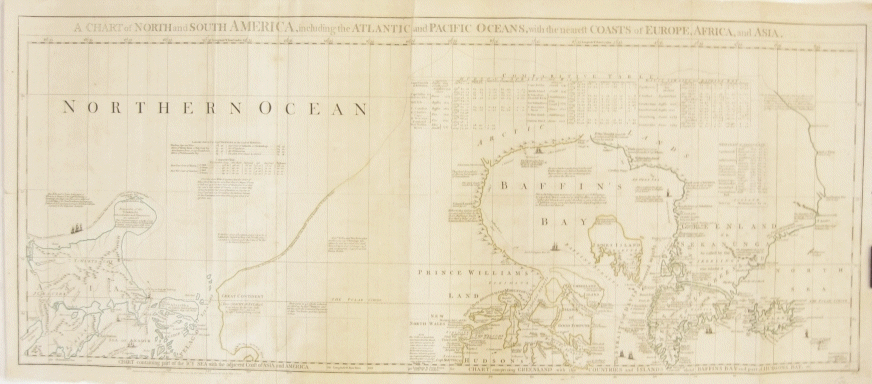 Cartographer: Jeffreys, Thomas.
A Chart of North and South America, Including the Atlantic and Pacific Oceans, with the Nearest Coasts of Europe, Africa, and Asia. Chart Containing Part of the Icy Sea with the Adjacent Coast of Asia and America.
Chart Comprising Greenland with the Countries and Islands About Baffin's Bay and Part of Hudson's Bay.
[Original Hand-Coloured 1775 Map Sheet 1 Only]. Fleet Street, London: Robert Sayer & J. Bennett, 1775, First sheet of a three part 1775 map. Very good. 20" X 45" (51 X 115 cm). Original map on thick paper which consists of two parts which have been attached at the center. Several verticle creases from being once folded into an atlas. Slight soiling. A few small closed tears at edges. Top left corner trimmed slightly. Hand colouring along outlines of land masses in yellow and green. Copper engraving hand-coloured with water colour.
A beautiful map with fine detailing. This is the top portion only of a three part atlas map. Printed beneath title above Baffin's Bay is a comparative table showing comparisons of observations of exact geographic locations with dates and names of observers. Printed beneath "Northern Ocean" is a table of "Latitudes observed by Captn. Behring on the Coast of Siberia."
Thomas Jefferys (c.a. 1710-1771) was one of the most significant English cartographers of the eighteenth century. Working as an engraver, geographer and publisher, he created some of the most important English and American maps of his day. He was appointed Geographer to Frederick Prince of Wales in 1748 and later served as Geographer to George III. One of his first maps is a "Plan of London and Westminster" (1732). This map is from "The American Atlas".
Aquila Books # 136476.....$1500.00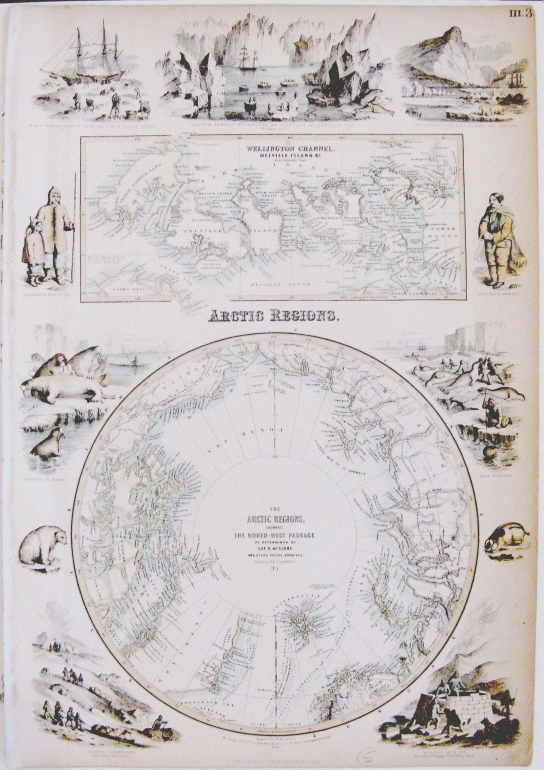 Fullarton A., & Co. The Arctic Regions, Showing the North-West Passage As Determined by Cap. R. McClure and Other Arctic Voyagers. Compiled by J. Hugh Johnson, F.R.G.S. (With) Wellington Channel, Melville Island &C. From Admiralty Chart. III.
[Original Hand Coloured Map]. London, Edinburgh & Dublin: A. Fullarton, 1856, Original 1856 map.. (Map) Near fine. 18.5" X 13" (47 X 33 CM). In full color. Slight browning and mild wear towards edges. Some unevenness and small holes to the left side from where it was once removed from an atlas. Generally the map is in excellent condition. The colours remain bright and crisp.
A beautifully detailed hemispherical map of the Arctic Regions with inset close-up of the Wellington Channel and Melville Island. Engraver or Printer: Johnson, J. Hugh; McClure, Cap. R. Maps are surrounded by vignettes of Arctic landscapes, wildlife, and native people. They include the H.M.S. Terror thrown up by the ice in frozen strait, "Prince Albert" surrounded by icebergs in Melville Bay and Cape Hotham with H.M.S. Pioneer and Resolute. CF P838 (1862); M&B p182; Tooley Australia 659 (1872); NMM 521. Atlas map published in the Royal Illustrated Atlas, of Modern Geography with an Introductory Notice by Dr. N. Shaw, Secretary to the Royal Geographical Society &c. (1872).
Aquila Books # 136466.....$325.00

Maps of the South Pole