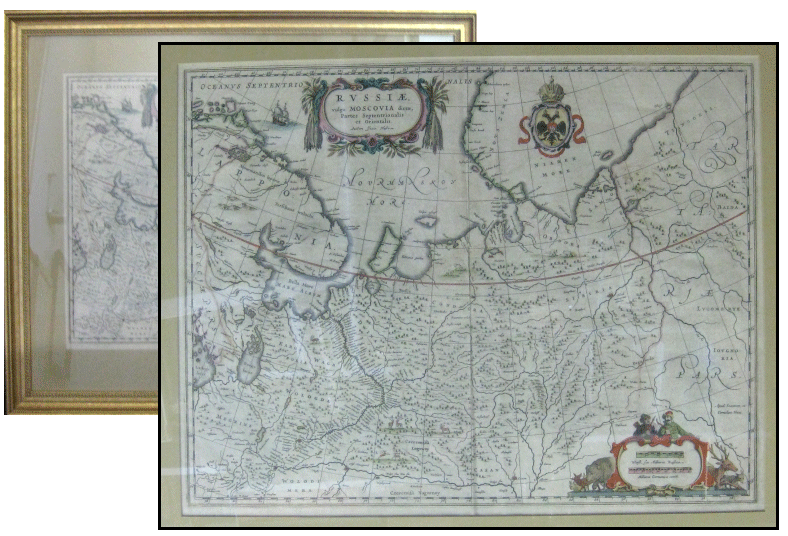 Blaeu, Ioannem et Cornelium.
Russiae. Vulgo Moscovia Dictae, Partes Serptentrionalis et Orientalis
[Original Map of 'russia, Commonly Called Muscovy (Moscow), Northern and Eastern Parts' with Hand-Colouring and Cartouche].Blaeu, [circa 1662]. Near fine. Original map. 17" X 22" (43 X 55.8 cm). Hand coloured outlines. Crest of Russian Empire at top. Distance cartouche is flanked by a variety of detailed animals and hunters. The title cartouche is decorated with pelts and abstract decoration. There is also a drawing of a ship and some small animals within the map. Vertical crease down center. Map is housed in a simple yet decorative gilt painted frame 25" X 29.5" (63.5 X 75 cm). Beige matting. Frame shows some slight wear. A beautiful map.
John (Joan) and Cornelius Blaeu were the sons of Amsterdam Cartographer, instrument maker, publisher and Bookseller Willem Jans Zoon Blaeu. The brothers collaborated together on several works including the Atlas Major in 1662, which is likely where this map came from. Blaeu was appointed the official cartographer to the Dutch East India Company 1638-1673.
This map shows the area from Finland to Siberia and beyond the Jenisej River and south to the Volga River, with Kazan and Novogorod. A partial coastline of Novaya Zemla is visible at the top of the map. The map is filled with mountains and forests with deer, bear and other animals throughout, all hand-coloured in an intricate and expert manner. The work was compiled from manuscripts brought back from Russia by Isaac Massa.
Aquila #135185 - $850.00