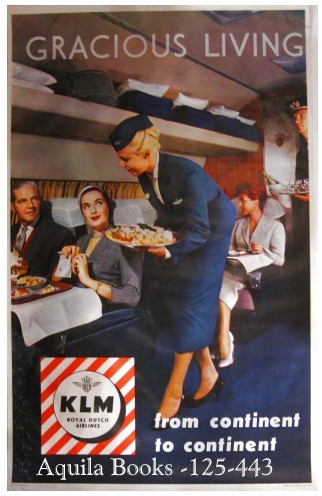 Gracious Living from Continent to Continent
KLM Royal Dutch Airlines
c.1958
40" x 25". Original. No Date. Rotterdam: Kuhn and Zoon. In very good condition with only minor water damage along top edge.
Brightly coloured poster showing the stylish late 1950's luxury of KLM, the National Airline of the Netherlands and a part of Air France KLM, emphasized by happy passengers, several pillows and delicacys such as champagne, which are used to convey the comfort of the first class cabin.
$300 U.S.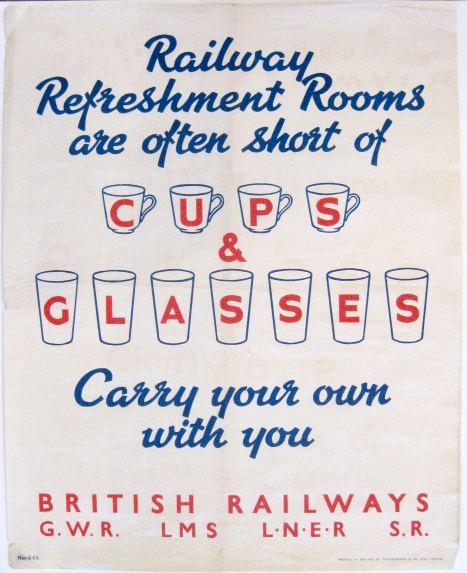 British Railways.
"Railway Refreshments Rooms Are Often Short of Cups & Glasses. Carry Your Own with You. British Railways G. W. R. LMS L.N.E.R S.R."
[Original Poster].London: British Railways / Mccordquodale & Co. LTD, [circa 1945]. Very good. Original poster. Beige with red and blue text/illustration. 24.5" X 19.75" (63 X 50 cm). Crease where it was once folded into four pieces. Subtle offsetting from text when it was folded. Slight soiling near edges (with top left corner showing some darkening) along with some creasing and small closed tears. There is 1.5" closed tear on the bottom left of the poster.
Fantastic graphic and statement. Poster produced for Great Western Railway (GWR), London, Midland & Scottish Railway (LMS), London & North Eastern Railway (LNER) and Southern Railway (SR) to ask passengers to carry their own cups and glasses, because railway refreshment rooms were often short of them towards the end of the Second World War.
Aquila Books #136423 - $175.00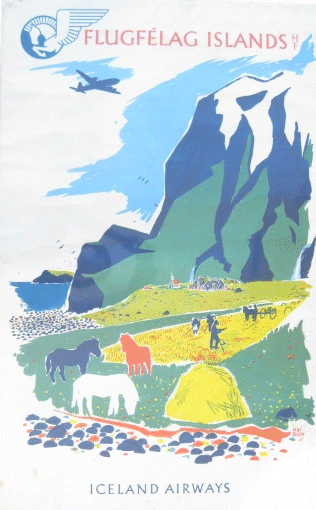 Iceland Airways [Kai Rich].
"Flugfélag Íslands. H. F. Iceland Airways."
Kobenhavn: Iceland Airways / Raaby - Henning Kristensen, [circa 1956]. Near very good. Original poster. 39.25" X 24" (99.5 X 61 cm). Poster shows some horizontal creasing from being rolled. There is some darkening along the left side and foxing toward the bottom. The bottom right corner has a white stain that measures roughly 5 X 6" at it's longer points. Small holes at all four corners from being hung with pins. A very interesting poster in decent condition.
Artist: Kai Rich (the image is dated '55). A strong graphic with bold colours. The poster depicts a plane, flying atop a looming mountain and a beautiful abstracted farm scene in the valley beneath. Kai Rich is known for his beautiful scenes of the Iceland landscape.
Originally Icelandair, Iceland Airways was began in 1937 in Akureyri on the north coast of Iceland. Flight operations started in 1938 with a single floatplane of the type Waco YKS-7. In 1939 the airline had to be grounded when the aircraft was destroyed in a capsizing accident. The company moved to Reykjavík, were it acquired another Waco aircraft and was re-launched in 1940 as Flugfélag Íslands, which translates as Flight Company of Iceland. Previously, two unrelated airlines of the same name had existed in the country (from 1919 to 1920, and between 1928 and 1931). For international purposes, the name Iceland Airways was adopted.
Aquila # 136431 - $400.00
M.S. Berlin
North German Lloyd
c 1955

Artist: Unknown. Entire size 18.5" X 27". Image size 12.5" X 22". Original poster printed on heavy cardboard. Worn around edges with corners slightly bumped. In very good condition with clean, bright image.

North German Lloyd (Norddeutsche Lloyd (NDL)) was a German shipping company. It was initiated in Bremen on February 20, 1857. It developed into one of the most important German shipping companies of the late 19th and early 20th Century. On September 1, 1970, the company merged with Hamburg America Line (HAPAG) to form Hapag-Lloyd.

During 1955, NDL had the converted Swedish MS Gripsholm in service. From the year 1924, she was renamed MS Berlin (and is shown on this poster). She worked on the North Atlantic routes and was one of the first in the line service to America.
$200 U.S.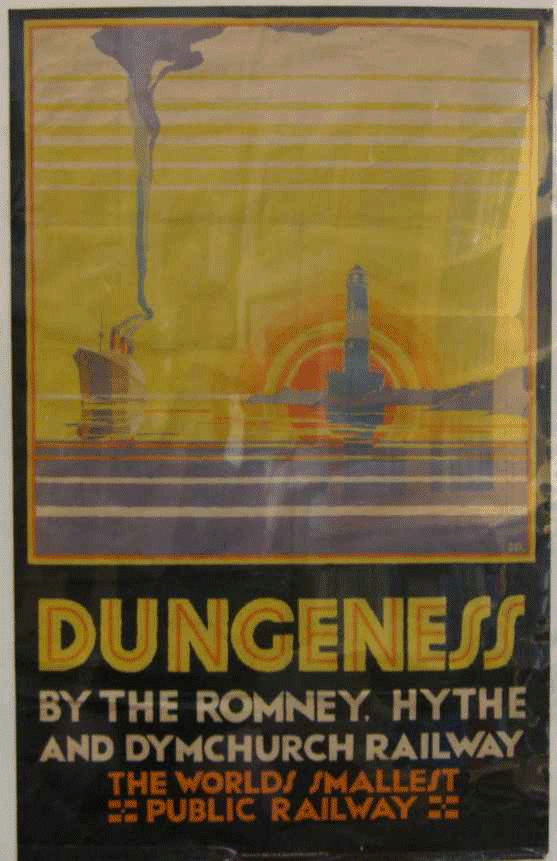 Romney, Hythe & Dymchurch Railway.
Dungeness. By the Worlds Smallest Public Railway.
[Original Poster].London: Vincent Brooks, Day & Sons, [circa 1950], Original Poster. Near very good. 39.5" X 24.5" (100 X 62 cm). Some vertical and horizontal creases from being folded into eight separate pieces. Poster also shows a fair amount of general creasing. Very slight wear to outer edges. Colours remain bright.
A aesthetically strong poster showing a picturesque ship and lighthouse in the setting sun. Strong orange and yellows upon a black background.
Dungeness, depicted in the poster, is a headland on the coast of Kent, England, formed largely of a shingle beach in the form of a cuspate foreland.
The Romney, Hythe & Dymchurch Railway is a 15 in/381 MM gauge light railway in Kent, England. The 13 1/2-mile (22 KM) line runs from the Cinque Port of Hythe via Dymchurch, St. Mary's Bay, New Romney and Romney Sands to Dungeness, close to Dungeness nuclear power station and Dungeness lighthouse. Originally opened in 1928 the New Romney to Dungeness section was reopened in 1947 following the war. From 1926 to 1978, the RH&DR held the title of the "Smallest public railway in the world" (in terms of track gauge).
Aquila Books # 136489 .....$300.00