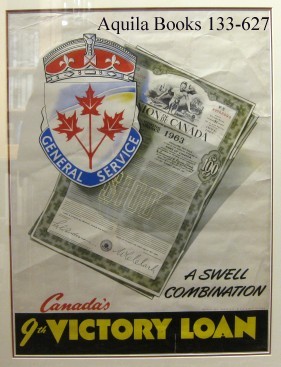 Canada's 9th Victory Loan. A Swell Combination.
c 1945
The Government of Canada. Original Poster. Measures 23" X 17" (58.5 X 43 cm). The poster is brightly coloured with crisp details. There is some wrinkling and creasing, as well as very mild soiling to the top right corner, else it is in very good condition. Not laid down. The poster is surrounded by eggshell matting with a thin red border. It is framed in a simple silver frame with a wire hanger across the back. The frame measures 30 X 23.5 inches (76 X 60 cm)
An interesting poster encouraging Canadians to buy Canada Savings Bonds, featuring a "Second World War war service badge" superimposed over a $100.00 Canada savings bond maturing October 1st, 1963. The 9th victory loan campaign was kicked off in Ottawa Ontario by Prime Minister William Lyon MacKenzie King and Hollywood starlet Shirley Temple on Oct 2st 1945.
$325 U.S.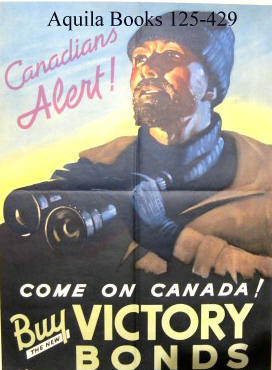 Canadians Alert! - Come on Canada! Buy the New Victory Bonds
c. 1941-2
Artist: Stapleton, Archibald Bruce [b. 1910]. 24" X 17.5". Colour offset lithograph. Original poster with light folding crease going down the middle both vertically and horizontally. In very good condition with bright colours and minimal wear.
World War II poster. French text version in Choko 'Canadian War Posters', Plate XXX1 (149). The French version reads at top "L'ennemi est a nos portes". This poster is from one of ten drives for Victory Bonds conducted during WWII. In 1941 when it became obvious the war would last for a number of years war bond programs were organized under the National War Finance Committee which was at first directed by the president of the Bank of Montreal and later by the Governor of the Bank of Canada.
$300 U.S.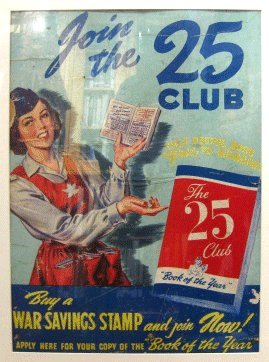 Join the 25 Club
This Useful Book Free to Members
The 25 Club "Book of the Year"
Buy a War Savings Stamp and Join Now! Apply Here for Your Copy of the "Book of the Year"
[Original Poster]. The 25 Club., [circa 1945]. Good to very good. 20.5" X 16" (52 X 40.6 CM) poster on card in bushed metal frame with white matting. Frame measures 28.5" X 22" (72.4 X 55.9 cm). Poster is brightly coloured however it shows some creasing, light stains, scratches, wear and a few very small holes/small closed tears. In two places the paper behind the image has been exposed 0.75 X 0.75 inches. The strong image and quality framing allow the image to remain strong and crisp despite the blemishes.
Canadian World War II propaganda poster encouraging Canadians to buy a war savings stamp to join the "Book of the Year" the 25 Club. Image shows a beautiful, smiling young woman in a Canada apron holding open the 25 Club book with many more in her pockets.
Aquila Books # 134711 - $200.00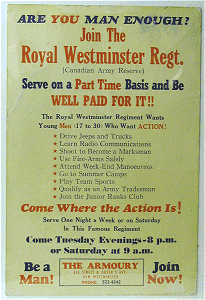 Are You Man Enough?
Join the Royal Westminster Regt. c. 1960's
Original on heavy card. 15" X 22 1/2" Undated. In fairly good condition with light wrinkling, some water staining, rubbing, title bleeding colour at top.
"Are You man Enough? Join the Royal Westminster Regt. Canadian Army Reserve. Serve on a Part Time Basis and Be Well Paid for it!" Poster describes what the CAR is looking for (Young men 17-30) as well as the benefits of joining. The Armoury, New Westminster, B.C. "Be A Man, Join Now!".
$125 U.S.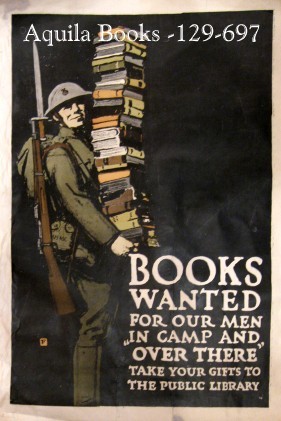 Books Wanted for our Men in Camp and 'Over There' Take your Gifts to the Public Library c. 1916
Artist Unknown. 41" X 28". Original World War 1 campaign poster asking for book donations for soldiers. Professional restoration to vertical tear, with some small tears and crinkling around edges. Dark bold colours.
This wonderful book related military poster from WW I presents a powerful image of a soldier with an armful of books. Rare and interesting subject matter. SOLD
$1950.00 U.S.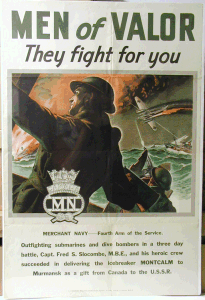 Men of Valor - They Fight For You
Artist: Hubert Rogers, Ottawa. 24" X 36". Original un-mounted WW II Poster. Issued by the Wartime Information Board, Ottawa. Printed in Canada. W1B-5E.
SOLD $475 U.S.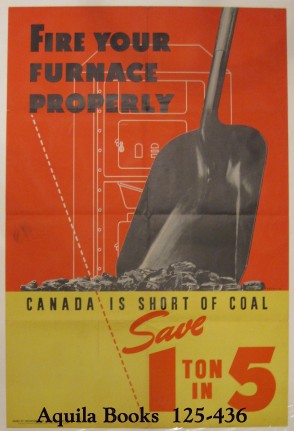 Fire Your Furnace Properly. Canada Is Short of Coal. Save 1 Ton in 5
c. 1941
Artist: Gwen Fremlin. 36" X 23.5". Original poster. In very good condition with slightly worn creases where poster was folded in 8. Some light dirt/staining around edges. Finger smudge of dirt 1" x 1" on the left side of poster half way up. Bright colours and strong graphics.
Issued by the Department of Munitions and Supply. Produced by the National Film Board of Canada, Ottawa. Strong shapes and colours help to convey the message of this Canadian World War II poster by one of Canada's famous female illustrators of the 20th century.
$225.00 U.S.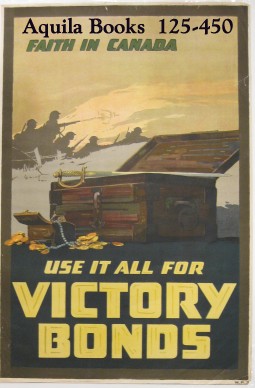 Faith in Canada - Use It All for Victory Bonds c . 1918
Artist Unknown. 35.5" X 24". Original poster. Lithograph. In good to very good condition, untrimmed. Some small tears around edges three at top and two on either side (the longest being 1.5" and the others smaller). Wear and wrinkling around edges.
World War I poster issued by the Canadian Government depicting a treasure chest with silhouettes of soldiers and battle in the background using simple and strong graphics to convince the Canadian public to buy war bonds.
$500.00 U.S.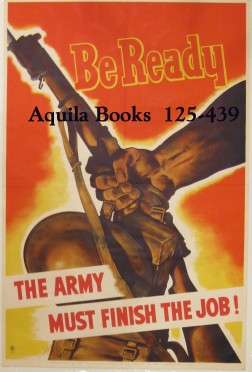 Be Ready - the Army Must Finish the Job! C. 1942.
Artist: Russell Taber. 36.5" X 23.5". Original poster. Lithograph. In very good condition with a vertical and horizontal crease where it was folded into quarters. Three very small holes at very top top of poster which were expertly repaired. A very bold and effect poster.
Issued for the Dept. Of National Defense by the Director of Public Information, Ottawa. Strong bold graphics and colours are used by this WWII Canadian propaganda poster to call for new recruits (the imagery depicts a hand giving the looker a gun, helmet and army bag). In Choko 'Canadian War Posters' (French version) Plate XXVIII PG 142.
SOLD $375.00 U.S.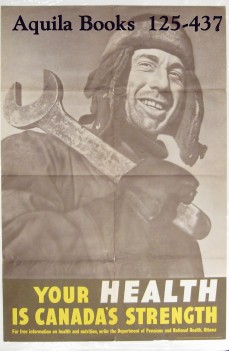 Your Health Is Canada's Strength
c. 1940
Artist Unknown. 35.5" X 23.5. Original poster. Lithograph. In very good condition. Worn creases across and down middle from where it was folded into 8, small holes where two lines meet. Slightly worn at edges.
"For free information on health and nutrition, write the Department of Pensions and National Health, Ottawa." Issued by the National Film Board of Canada. The poster depicts a happy-healthy, very Canadian looking lumberjack holding a large wrench. The department of Pensions and National Health mentioned on the poster was established in 1928 and became the Department of National Health and Welfare in 1944.
$150.00 U.S.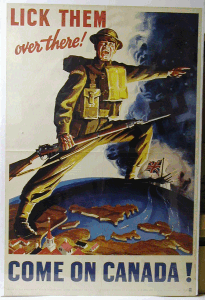 Lick Them Over There!
Come on Canada!
Artist Unknown. 24" X 36". Original un-mounted WW II Poster: Printed in Canada. UE-5L
Issued by the Director of Public Information Under Authority of Hon. J. T. Thorson, Minister of National War Services, Ottawa.
$450 U.S.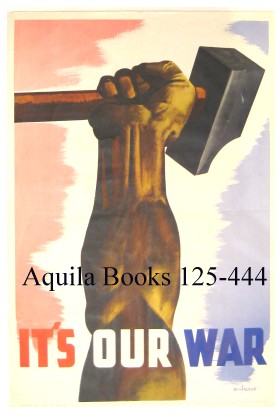 It's Our War
c 1941-2
Artist: Eric Aldwinkle. 31" X 20.5". Original wartime poster. Lithograph. Ottawa, Canada. In very good condition. Creases where it was folded into quarters. Professional restoration to top left hand corner. Deep, bold colours and design.
In Choko 'Canadian War Posters' Plate XLIII (PG 172). Canadian world war II poster depicting a strong arm wielding a hammer by the famous Canadian war artist, designer and illustrator.
$350 U.S.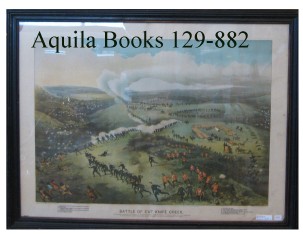 Battle of Cut Knife Creek 1885
Artist: W.D. Blatchly. 24" X 30". Original lithograph poster in very good condition. From topographical sketches by Capt. Rutherford of 'B' Battery, and Lieut. R. Lyndhurst Wadmore, 'C' Company, Infantry School Corps; supplemented by personal information furnished by Sergt-Major Spackman and members of the Queen's Own who participated in the engagement. Entered accourding to the act of Canada in the office of the Minister of Agriculture. In black wooden frame. Large chip out of top left corner (.5" missing). Slight rippling and some wear and light staining around edges. A brightly coloured and detailed poster.
In the mid 1800's the coloured lithograph fulfilled the role occupied today by the media. Action pictures of great battles of the empire were in high demand, and with rebellion breaking out in Canada's Far West in 1885, everyone wanted battlefield images that showed what was going on. The Toronto Lithographing Company, seized the opportunity to capitalize on a popular war to print and sell patriotic lithographs of the key battles and events. One of their chief illustrators and Canada's leading artists of the time, Blatchly, was given the task of doing the paintings. He used the battlefield sketches of military men who had been at the actual battle sites as the basis for his large panoramic paintings. To help the audience to understand the personalities and events he illustrated, keys were added at the bottom of the prints (as seen on this lithograph). The image shown here is of the battle took place on May 2, 1885, on a hill above the Cut Knife Reserve.
$650 U.S.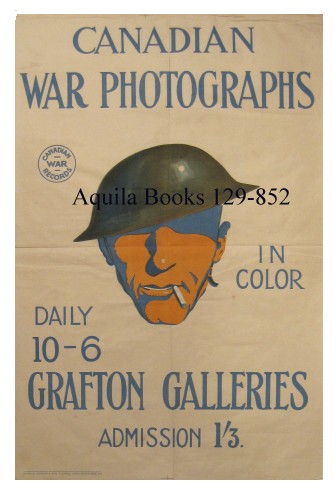 Canadian War Photographs.
In Color. Daily 10-6 Grafton Galleries. Admission 1'3
c 1916
Artist: Unknown. 20" X 30". Original lithograph on paper poster, untrimmed. 'Charles & Son, 4 Emerson Street, Southwark SE'. ' Canadian War Records'. Some wrinkling, especially around edges, and creases where it was folded into quarters. Bright colours and a clean poster.
The image is positioned in the centre, with the title separate and positioned in the upper quarter, in blue. The text is separate and positioned in the upper left, centre right and lower third, also in blue. All set against a white background. The image shows a stylized depiction of the head of a British soldier. He wears a helmet which casts a shadow over his eyes, and smokes a cigarette. A rare poster advertising for a collection of Canadian War Photographs to be shown at a gallery.
sold$650 U.S.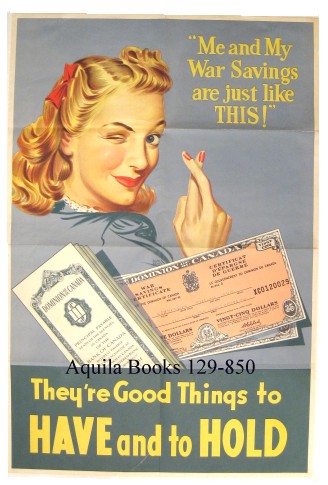 Me and My War Savings Are Just Like THIS! - They're Good Things to HAVE and to HOLD
c. 1941
Artist: Jack Keay. 36" X 24". Original poster. Untrimmed. Two inch tear at bottom. 1/4" border around image. Worn and creased where it was folded into eight. A bright cheery image.
Canadian war poster showing a cheery looking girl and war savings certificates. Image by artist Jack Keay (1907-1999) who was born in King's Norton, Worcestershire and was a popular book cover artist.
SOLD $250 U.S.