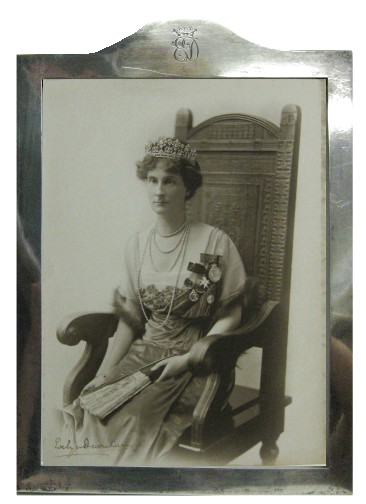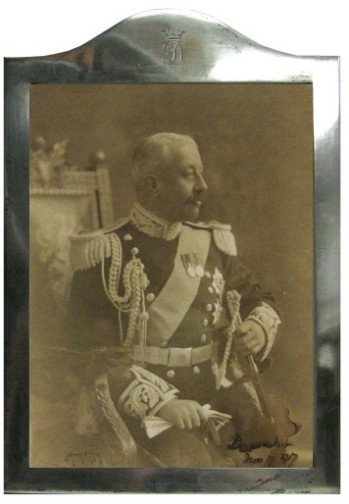 Unknown Photographer. Set of Photographs Showing Victor Christian William Cavendish the 9th Duke of Devonshire and His Wife Evelyn Cavendish, Duchess of Devonshire in Silver Presentation Frames SOLD $850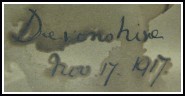 1917. Set of two photographs, each portraits, individually framed. 7.25" x 9.75" (18.5 x 24.5 cm). In silver frame measuring 8.5 x 12" (21.5 x 30 cm). Each frame has a soft decorative peak at the top in which 'E' and 'ED' are monogrammed above the portraits with a small crown above. The frames are somewhat tarnished; each frame is backed with wood, which is worn, and has a wooden stand. The portraits are beautifully detailed though there is some slight water damage to the bottom of the portrait of the Duke. A great set in interesting vintage presentation frames.
Evelyn Cavendish, Duchess of Devonshire, (27 August 1870 – 2 April 1960) was born Lady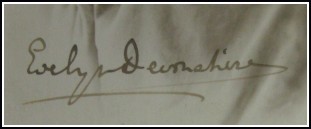 Evelyn Emily Mary FitzMaurice, the daughter of the 5th Marquess of Lansdowne and his wife,
Maud. Evelyn was married on 30 July 1892 to Victor Cavendish, who succeeded his uncle as 9th Duke of Devonshire in 1908, whereupon Evelyn became Duchess of Devonshire. She was Mistress of the Robes to Queen Mary from 1910 to 1916, and again from 1921 to 1953. Victor Christian William Cavendish, 9th Duke of Devonshire (31 May 1868 – 6 May 1938), known as Victor Cavendish until 1908, was a British politician who served as Governor General of Canada, the 11th since Canadian Confederation.