Due to rapidly fluctuating Canadian and U. S. currencies, prices as listed ARE NOT CURRENT PRICES. Please contact us for a quote on an item's current price
001 (Alaskan Directory) Dun, R.G. and Co. The Mercantile Agency Reference Book (And Key) for the Within States, with a List of Banks and Bankers, State Collection Laws, Maps, Etc, Etc., Alaska, Brit. Columbia, Idaho, Montana, Oregon, Washington. July 1901. New York: R.G. Dun and Co., 1901. viii,13, 104, 77, 99, 209, 269pp. Very good. Tall 12mo. Bound in original leather covers with rounded corners. Key to abbreviations used as endpapers. 5 of 6 folding maps, missing the Oregon sheet but complete with the Alaska and British Columbia sheets. Covers worn and separating but complete. A few sections somewhat soiled and have old repairs. For a small pocket directory of this size and over 100 years old in excellent condition.
500.00
This very scarce commercial directory details most of the Pacific northwest but the first section shows towns in Alaska and the nice folding map shows the Klondike area as well.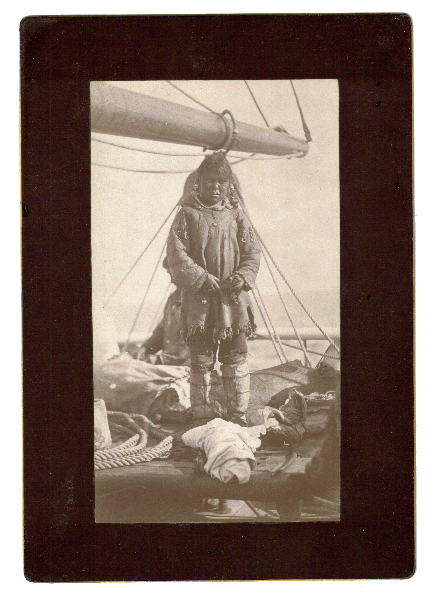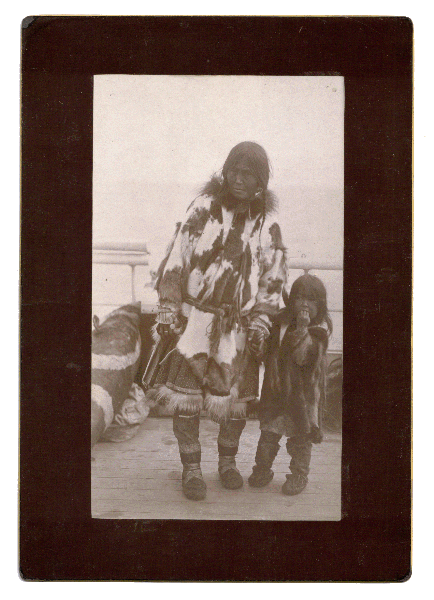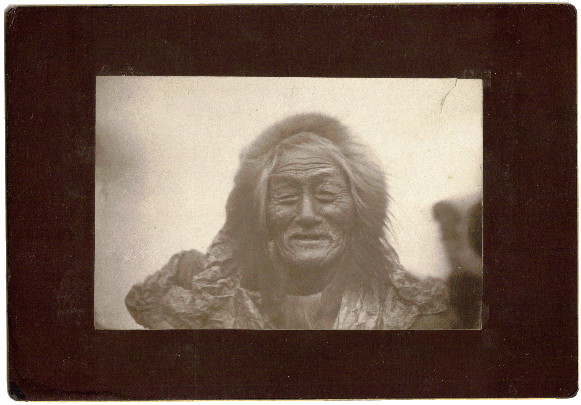 002 Alaska (Eskimo Photographs). Wife and Child of Selawik River Chief; Kobuk River Eskimo Seen at Hotham Inlet, Alaska; And Indian Girl Seen at Hotham Inlet. Alaska: , [circa 1890]. Near fine. Three card mounted 19th century albumen photographs of Eskimo, from the Kotzebue Sound area of Northwestern Alaska. The images are mounted on black bevel mounts with grey backs (17.5 X 25 cm) with the images being 11 X 19.5 cm. The condition of the photos is excellent with good rich tones and little fading. All are captioned as above in an old hand. Two of the images were taken on the deck of a ship with the third undetermined. 1500.00
Three very attractive images. We were unable to determine who the photographer is but the quality is so good that further research may yet results. See photo.
003 Amundsen, Roald. Massey Hall the Greatest Lecture Since the Days of Henry M. Stanley. Capt. Roald Amundsen Illustrated Lecture "How I Discovered the South Pole" Under the Auspices of the Canadian Institute of Toronto Saturday Jan. 25. Toronto: Massey Hall, [circa 1913]. (Broadside) Near fine. 8vo. Printed on brown paper stock. 14 x 21 cm. SOLD
This small simple broadside advertises Amundsen's Canadian lecture after his successful South Pole expedition. Seats were .50 cents to $1.00 with rush seating at .25 cents!
004 Antarctic. Islands ( Southern Ocean) Copy of the Correspondence Between the Lords of the Admiralty and the Committee of Lloyd's, with Respect to Her Majesty's Ships Calling at the Islands Between the Cape of Good Hope and Australia, to Relieve Those Shipwrecked upon Them. Ordered, by the House of Commons, to Be Printed 15 June, 1876. London: House of Commons, 1876. 1st printing. (Wrappers) 4pp. Very good. Folio. Original self wrappers. Some minor edge tears and soiling. Large folding map.
(64 X 85 cm.) 750.00
Not found in any of the standard references. Renard records. The map only in his famous Antarctic sale in 1994 as lot 513. The bases of the report is the loss of three ships on route from Britain to Australia. The map provides future shipping with a range for the southern ice zone. Very Scarce.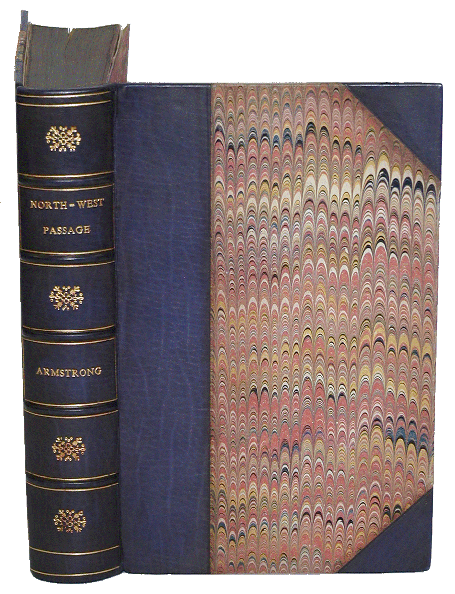 005 Armstrong, Alexander. A Personal Narrative of the Discovery of the North-West Passage; With Numerous Incidents of Travel and Adventure During Nearly Five Years' Continuous Service in the Arctic Regions While in Search of the Expedition Under Sir John Franklin. London: Hurst and Blackett, Publishers, 1857. 1st Edition. xxii,(2),616pp. Very good. Rebound in modern dark navy calf with marbled boards and marbled endpapers to match the original marbled edges. Spine divided into six compartments with simple elegant decoration. Overall a pleasant attractive binding. Coloured frontis. Attractive folding map. Top edge somewhat soiled. Old library stamp to title page. Map with minor old fraying to fore edge otherwise clean and crisp. Generally book is very clean with almost no foxing present.
SOLD
Arctic Biblio. 682. Personal narrative of the surgeon on board HMS "Investigator" (Captain R. M'Clure) on the search for the missing Franklin expedition, 1850-1854. Having reached the Arctic Islands via Bering Strait, the ship became solidly beset at Mercy Bay, northern Banks Island and had to be abandoned. Her crew hiked across the ice of M'Clure Strait to Dealy Island, where HMS "Resolute: and "Intrepid" were wintering; thereafter these ships wintered yet again off Cape Cockburn, Bathurst Island and in the spring of 1854 were in turn abandoned in the ice. Their crews (and those of "Investigator") hiked across the ice to the depot ship "North Star" at Beechey island; the latter vessel and the supply ships "Phoenix" and "Talbot" then brought them back to England. On the basis of this complicated journey M'Clure and his crew were recognized as having discovered the Northwest Passage. See photo.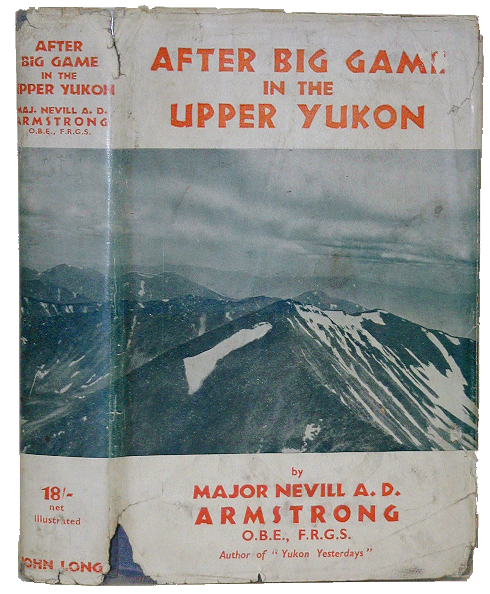 006 Armstrong, Major Nevill A.D. After Big Game in the Upper Yukon. London: John Long, 1937. 1st Edition. 287pp. Good to very good in good to very good dust jacket. 8vo. Original blue cloth. Edges and spine are somewhat worn. Endpaper maps. Two full page and one half page maps. Frontispiece. 27 illustrations. Dust soiling to the text block edges. Original wrap around dustwrapper is present. It is quite worn in spots but basically intact. SOLD
Very scarce especially so with the dust wrapper. The book details the records of three trips to the MacMillan River area of the Upper Yukon. See photo.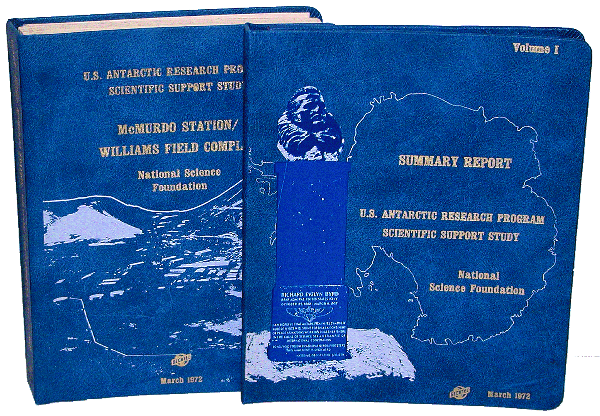 007 Arnold, C.L. Summary Report Vol. I McMurdo Station/Williams Field Complex Vol. II U.S. Antarctic Research Program Scientific Support Study. National Science Foundation. Bechtel, 1972. 1st printed edition. 26; v,4,2,3,26,17,20,47,(8). Near fine. 4to. Original blue buckram decorated binders. Two volumes, the first one cerlox bound and attached to purpose built binder and the second sealed in a binder. Numerous folding charts, maps, and plans. Illustrations SOLD
The report seems to be a detailed study of McMurdo base and looking at future potential expansion plans by the contractor Bechtel. Vol. I signed by the author. Very scarce with only a few copies probably produced. See photo.
008 Bartlett, Robert A. The Log of Bob Bartlett. A True Story of Forty Years at Sea. New York: G.P. Putnam's Sons., 1928. 1st Edition. (Hardcover) xii, 352pp. Very good in good to very good dust jacket. Blue cloth with gilt lettering. Slight spotting to front and rear boards. Spine somewhat faded. Some wear at top edge of dust-jacket. 26 plates from photos. Presentation copy from author to Dr. Edward Locke and his wife. Overall a very nice copy in an attractive wrapper with a good inscription SOLD
A Newfoundland ship's captain, Bob Bartlett is best known for leading the last support sledge party to turn back during Robert E. Peary's attempt at the North Pole in 1909, and for his sledge trip from Ostrov Vrangelya (Wrangel Island) across to Chukotka, and ultimately to Nome, Alaska to bring help to the survivors of Vilhjalmur Stefansson's expedition on board "Karluk", stranded on Ostrov Vrangelya.
009 Bernacchi, Louis. To the South Polar Regions. Expedition of 1898-1900. London: Hurst & Blackett., 1901. 1st Colonial Edition. (Hardcover) xv1, 348 pp.. Very good. Octavo; original red cloth; slight fading on spine. 3 maps (2 folding); B&W plates from photos (some in text). Folding panorama of the Barrier (artist's impression). Scientific appendices. This issue is the less decorative issue intended for the colonies and other than the binding the text is identical. 2250.00
Spence 123. Account by expedition's physicist of Carsten Borchgrevink's British Antarctic Expedition, on board "Southern Cross." Expedition wintered at Cape Adare, the first expedition to winter on the Antarctic continent. Charles R.J. Glover copy.
010 Broke, George. With Sack and Stock in Alaska. London: Longmans, Green, and Co., 1891. 1st Edition. xi,158pp. +16pp. (publisher's catalogue dated ca 1890). Near fine. Small Octavo in original blue cloth which maybe a later issue. Black coated endpapers. 2 folding maps. Upper corners and foot of spine slightly bumped else a clean, tight copy of a scarce title. SOLD
Neate B172; Tourville 678; Wickersham 4935. Account of the attempt on Mt. St. Elias in 1888 by the British diplomat and member of the Alpine Club, Horatio George Broke (1861-1932) the William Boeing copy with his later bookplate.
011 Butler, Captain W. F. The Wild North Land: Being the Story of a Winter Journey, with Dogs, Across Northern North America. London: Sampson Low, Marston, Low, & Searle, 1873. 1st U.K. edition. x,(1),358,48pp. Very good. Octavo in original gilt decorated pebbled green cloth and brown endpapers with 16 steel engraved plates (including frontispiece) and folding coloured map. Exterior joints with minor professional repair. Reverse of frontis. with minor staining. Overall quite an attractive copy. SOLD
Peel 3 #657. (1ST Edition London:1873). A journey to lake Athabasca, and to the Pacific via the Peace River in 1872-3. Although this book has been reprinted many times nice copies of the first edition are quite scarce.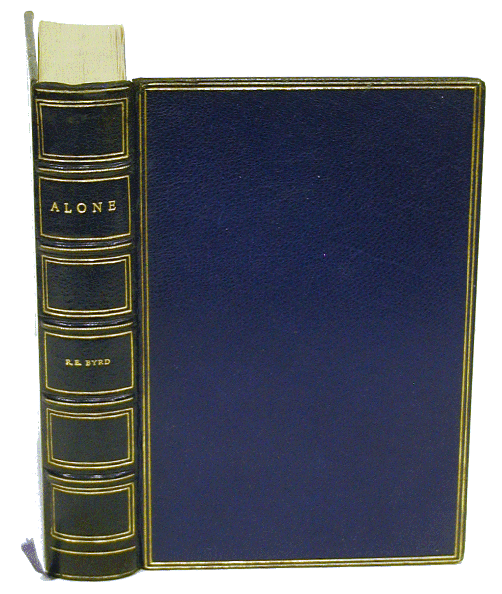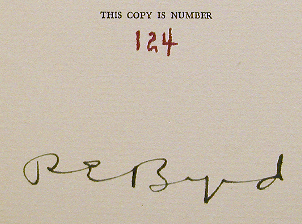 012 Byrd, Richard E. Alone. New York: G.P. Putnam's Son, 1938. 1st limited, 225 copies. (Hardcover) 296pp. Very good. Octavo; full blue morocco, marbled boards; gilt top edge; text in blue ink. Uncut; signed by author. A very fine copy. 1750.00
Taurus 120. Account of how the author, leader of the United States Antarctic Expedition, that wintered at Little America II, on the Bay of Whales 1933-35, spent 5 months alone, manning the Advanced Base, located 160 KM south of Little America on the Ross Ice Shelf. The limited edition of Byrd's Alone is very scarce. 124/225 copies. See photo.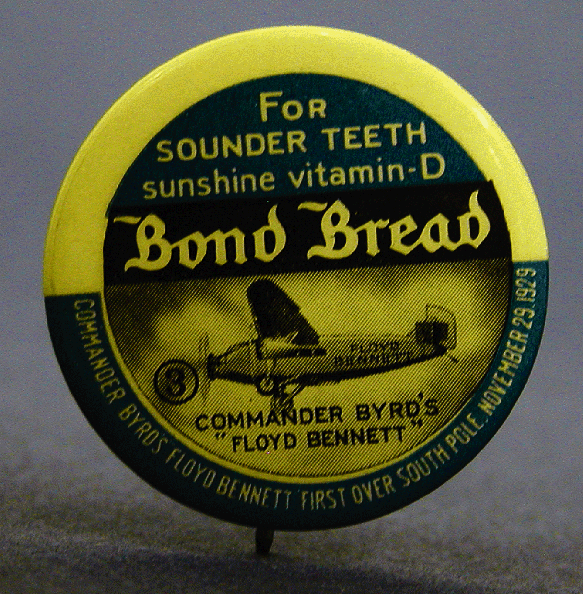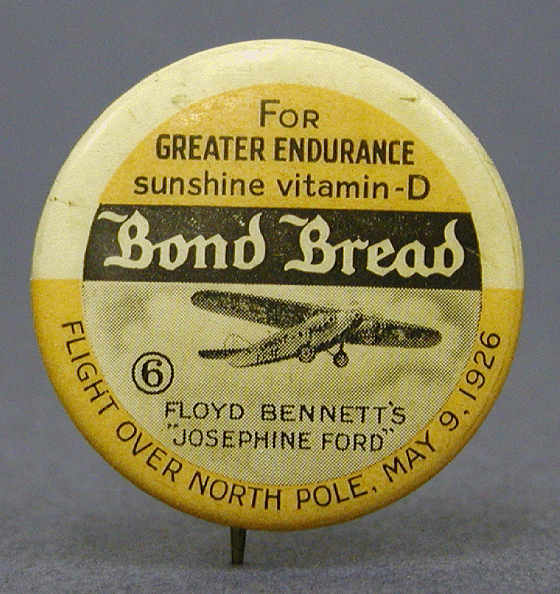 013 Byrd, Richard E. Pin Back Buttons Bond Bread for Sounder Teeth Sunshine Vitamin D #3 Commander Byrd's "Floyd Bennett"; For Greater Endurance Sunshine Vitamin D #6 Floyd Bennett's "Josephine Ford". Bond Bread, [circa 1930]. Near fine. Two pin back buttons, the first in yellow and white colours and the second in blue and white. Both in excellent condition with original paper label still on reverse. 250.00
Premium give-away; Bond Bread Company. Two of an unknown number commemorating the World's most famous planes, both Admiral Byrd. Great bit of Byrd nostalgia. See photo.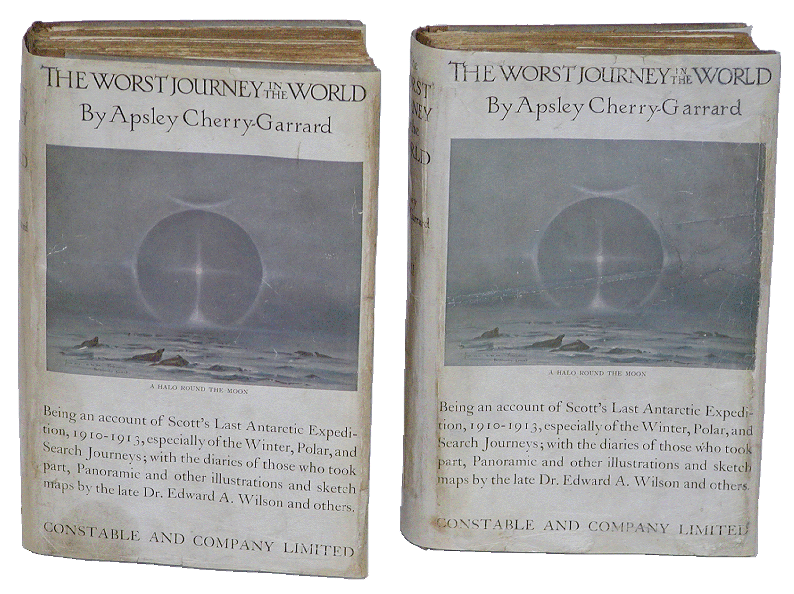 014 Cherry-Garrard, Apsley. The Worst Journey in the World. Antarctica 1910-1913. London: Constable and Company Limited, 1922. 1st Edition. xiv,300(4);viii,301-585.. Very good in good to very good dust jacket. Plates & maps, some in color, & including the 10 folding panoramas present only in the first edition. Original linen backed paper boards, paper labels. Boards somewhat soiled more so on Vol. 2. Spines somewhat darkened more so on Vol. 2. Top edges dust soiled. Foredges of text block have some foxing but generally the text is clean and bright. Complete with the very rare original decorative dust wrappers. Both wrappers have had professional restoration on the top and bottom edges with missing pieces being filled in. Vol. 2 has had more done to it with a few letters in the title being replaced. Both wrappers present very well and even in this condition are highly unusual. SOLD
Spence 277. Taurus Collection 84. A classic - it has been called "The best polar book ever written." Cherry-Garrard was assistant zoologist with Scott's last expedition, and the "worst journey" was a mid-winter trek to Cape Crozier to study emperor penguins, with Edward Wilson and Birdie Bowers, both later to die with Scott. See photo.
015 Collinson, Rear Admiral Richard. The Three Voyages of Martin Frobisher, in Search of a Passage to Cathaia and India by the North-West, A.D. 1576-8, Reprinted from the First Edition of Hakluyt's Voyages, with Selections from Manuscript Documents in the British Museum and State Paper Office. London: Hakluyt Society, 1867. 1st printing. xxvi,374,(2). Very good. 8vo. Original blue gilt decorated cloth. Frontispiece. Two folding maps, one with a small old tape repair. Spine a bit faded. Endpapers somewhat browned as usual. SOLD
I'ts getting much harder to find nice clean copies of the 19th century Hakluyt Society publications, especially in the original cloth.
016 Conway, Sir Martin. No Man's Land. A History of Spitsbergen from Its Discovery in 1596 to the Beginning of the Scientific Exploration of the Country. Cambridge: Cambridge University Press, 1906. 1st Edition. (Hardcover) (xii),377pp. Near fine. 8vo. original green cloth. Gilt lettering. Frontis. 10 Illustrations. 13 maps including two in pocket at rear. A very nice clean attractive copy. 850.00
Arctic Bibl. 3382. Very scarce.
017 Crantz, David. The History of Greenland, Containing a Description of the Country, and Its Inhabitants: And Particularly, a Relation of the Mission, Carried on for Above These Thirty Years by the Unitas Fratrum, at Neu Herrnhuth and Lichtenfels, in That Country. 2 Vols. London: The Brethren's Society for the Furtherance of The Gospel Among the Heathen., 1767. 1st English edition. (Hardcover) lix, 405; 497pp. Very good. Octavo; rebacked in new half-calf with marbled boards and matching marbled endpapers. Gilt decoration on spines. 2 folding maps and 6 copper plates; index. Other than some age toning to the paper a clean attractive copy. 1750.00
Arctic Biblio. 3471 A comprehensive geography of Greenland, and of the activities of the first Herrnhut or Moravian missionaries in Greenland, from their first initiatives in 1733.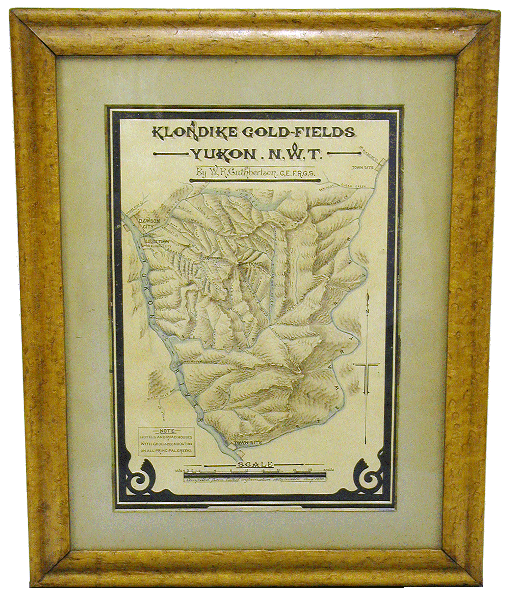 018 Cuthbertson, W.R. G.E.. F.R.G.S. Klondike Gold-Fields Yukon N.W.T (Map). 1899. Near fine. Original professionally hand drawn map (22 X 32 cm). Lettered in pen and ink. Background and rivers with colour wash. Framed in original Birds Eye Maple frame. Original Oak backing boards. Condition is clean bright and very attractive. SOLD
This wonderful contemporary map shows the area immediately East and West of Dawson City for about 60 miles in each direction. The area is defined by the Yukon River on the West, the Stewart River on the East and the Klondike river on the North. All of the principal creeks are shown and named. An interesting note on the side indicated that there are Hotels and Road Houses with good accommodation on all principal creeks! It would seem this was the original map intended to go with one of the many guide books that were produced. We have checked our inventory and have not been able to determine which. A great Klondike artifact. See photo.
019 Denuce, J. Bibliographie Antarctique. London: Bernard Quaritch Ltd., 2002. 1st reprint Edition. (Hardcover) 271pp. Near fine in near fine dust jacket. Facsimile of the extremely scarce 1913 edition of which this reprint edition is limited edition to only 50 copies. Octavo. Original green cloth with gilt lettering on spine; in dust jacket. Excellent condition. 135.00
Bibliography of 3225 items, plus index.
020 Dobbs, Arthur. An Account of the Countries Adjoining to Hudson's Bay, in the North-West Part of America: Containing a Description of Their Lakes and Rivers, the Nature of the Soil and Climates, and Their Methods of Commerce, &C. Shewing the Benefit to Be Made by Settling Colonies, and Opening a Trade in These Parts; Whereby the French Will Be Deprived in a Great Measure of Their Traffick in Furs, and the Communication Between Canada and Mississippi Be Cut Off. With an Abstract of Captain Middleton's Journal, and. London: Printed for J. Robinson, at the Golden Lion in Ludgate-Street, 1744. 1st Edition. 1p.l.,ii, 211pp. Very good. Small Quarto (20.5 X 25.5 cm.), Bound in 19th century half green calf and marbled boards. Spine with five raised bands, ruled in gilt. Marbled endpapers to match. Folding map. Decorative chapter headings and initials. Several spots with scholarly pen and pencil notations in a contemporary hand, mostly in the margins. Generally quite clean with a few old finger smudges. One page with a bit larger marginal stain just touching the text. Small natural paper flaw on page 96. Small half inch library stamp erased from the title page and last leaf. 16500.00
Hill p.84- "This book was published in the midst of a controversy between Dobbs and Christopher Middleton; the latter had been sent out by the former to search for a Northwest Passage but had failed. Dobbs was convinced that there was such a passage and charged Middleton with collusion with the Hudson's Bay Company to prevent the successful exploration of two or three inlets in the western part of Hudson Bay..." Streeter 3637; Howes D373. The William Boeing copy with sale bookplate on the front paste down. Very scarce especially complete with the folding map. The Frank Streeter copy made $19,200 last year.
021 Dobell, Peter. Travels in Kamchatka and Siberia; With a Narrative of a Residence in China. In Two Volumes. London: Henry Colburn and Richard Bentley., 1830. 1st edition. (Hardcover) ix, 351 pp.;x, 341 pp.. Very good. Rebound in fairly recent half calf with marbled boards; gilt decoration on spine. Top quarter inch of title page in Vol. I renewed.; very small ink stain on title page of Vol II. Otherwise a very clean, crisp set in very presentable binding. 2950.00
Account of author's travels from Petrpopavlovsk through Kamchatka and west to Okhotsk, Yakutsk, Irkutsk, Krasnoyarsk, Tomsk, to Perm in 1812-13. Followed by his account of his seven-year sojourn in Macao, Whampoa and especially Canton.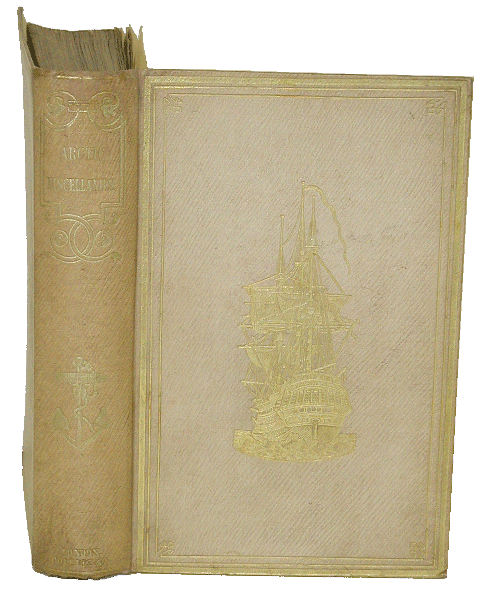 022 [Donnett] Edited By. Arctic Miscellanies. A Souvenir of the Late Polar Search. London: Colburn & Co., 1852. 1st edition. (Hardcover in decorated boards) xviii, 347pp. Very good. Octavo; original ivory decorated boards. Gilt edges. Coloured frontispiece (with some foxing) and occasional B&W illustrations in text. Bookplate Henry Theophilus Clements. Colburn & Co.'s book-list tipped in. A very fine, clean copy. 2500.00
AB 651. A collection of articles extracted from the manuscript newspaper "Aurora Borealis" composed by officers of the expedition in search of the missing Franklin expedition under the command of Captain H.T. Austin, 1850-51. The collection includes whimsical and informative articles and letters on animals, birds, history, sledge journeys etc. Colburn & Co.'s book list tipped in. Edited by the surgeon, James Donnett. See photo.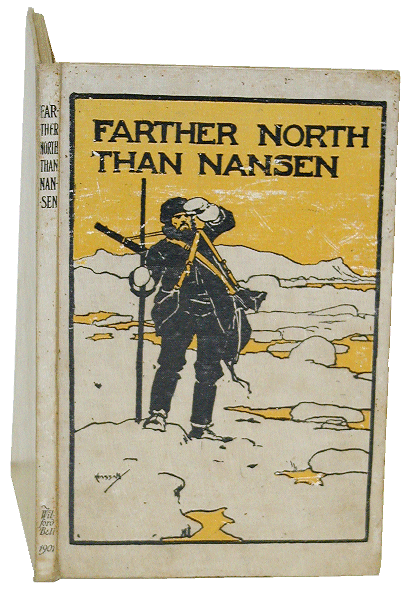 023 Duke of the Abruzzi, Luigi Amedeo of the Savoy. Farther North Than Nansen, Being the Voyage of the Polar Star. London: Howard Wilford Bell, 1901. 1st edition. (Cloth over boards) 97pp. Very good. Attractive pictorial front cover; minor abrasion to the image. Frontispiece photo of the "Stella Polare"; a clean, tight copy. 425.00
AB 10425; Holland, p. 426. A brief account of the Italian Polar Expedition of 1899-1900, reached a record high latitude of 86° 34'N before having to turn back. Very scarce, much more so than the full narrative which appeared two years later. See photo.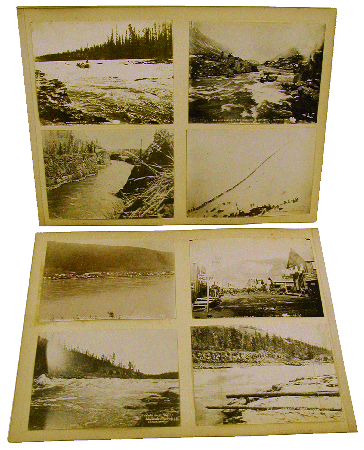 024 Edwards Brothers. Eleven Photographic Images of the Yukon Gold Rush of 1898. Vancouver: Edwards Brothers, 1898. (Photograph) Very good. 11 original albumen images of the Yukon Gold Rush of 1890 mounted onto loose album pages 35 X 26 cm. Images are 15 X 12 cm. SOLD
An attractive archive of original images by the Edwards Brothers. George William and Edgar Herbert, were very successful as portrait photographers. George also photographed in the Yukon Territory in 1898 during the Klondike gold rush. Many of their negatives were acquired by A. C. Hirschfeld & Co, Alaska. Includes: an unattributed photo of people scrambling onto a ship "Klondike excitement outer Wharf, Victoria, 1898."; Edwards Brothers #4 Whitehorse Rapids; #5 Whitehorse Rapids; #8 Yukon River; #10 Dawson City NWT; #12 Customs House at Summit of Chilkoot Pass 1898; #18 White Horse Rapids; #25 One Mile River Between Lindeman and Bennet; #30 Dawson City; Packers Ascending Summit of Chilkoot pass; Scales at Chilkoot Pass. See photo.
025 Ellsworth, Lincoln. Search. New York: Brewer, Warren & Putnam, 1932. 1st Edition. xxvii,184pp. Fine in very good dust jacket. Octavo in original black cloth, gilt top edge, others uncut and price clipped dust jacket, with plates (including frontispiece) from photos. A bright copy in the scarce dust jacket, slightly soiled with two small chips. Foreword by Gilbert H. Grosvenor. 300.00
Arctic Bibl. 4574. Autobiographical, including detailed accounts of his arctic flights with Amundsen.
026 Finton, Walter L., M.D., F.A.C.S. Alaskan Bear Adventures the Story of a Sportsman-Naturalist's Hunt for the World's Largest Bear on the Bleak Bering Sea Shores of the Alaska Peninsula. New York: Daniel Ryerson, 1937. 1st Edition. 167pp. Near fine in near fine dust jacket. Original green decorated cloth. Gilt titling. Tall 8vo. End paper maps. Boards are slightly faded on the top edges. Frontispiece. 23 illustrations. Dust wrapper has had some minor restoration on the top and bottom edges otherwise a very attractive example. SOLD
A very scarce account especially in the wrapper. Doctor Finton was a popular contributor in adventure magazines and was asked to bring back specimens of the Brown Bear for a University.
027 Fisher, Alexander. A Journal of a Voyage of Discovery to the Arctic Regions, in His Majesty's Ships Hecla and Griper, in the Years 1819 & 1820. London: Longman, Hurst, Rees, Orme, & Brown, 1821. 4th Corrected edition. xi,320.. Very good. Rebound in modern half calf with marbled boards and calf corners. Spine in 6 compartments with decorative gilt ship motif. 2 maps (1 folding); 5 illus., 4 in text and one full page. Some foxing especially on maps. Otherwise a clean, crisp copy. SOLD
Arctic Bibl. 5022. Narrative of Parry's first expedition (1819-20) which wintered at Winter Harbour, Melville Island. Fisher was Assistant surgeon on board HMS "Hecla." Four editions, all identical, appeared in 1821.
028 Fluhmann, May. Second in Command. A Biography of Captain Francis Crozier R.N.,F.R.S., F.R.A.S. Yellowknife: Department of Information, Government of the Northwest Territories, [no date]. 1st private printing. (Softcover) 162pp. Very good. Octavo; 6 illustrations, including frontispiece. Very fine condition. SOLD
Crozier was second in command of Captain Sir John Franklin's final & fatal expedition. He assumed command of the expedition ships, HMS "Erebus" and "Terror", beset in the ice off King William Island, after Franklin's death in the summer of 1847. Having abandoned the ships in the summer of 1848 he and all officers and men of the expedition died in the Arctic. Privately printed edition, in very limited quantities and is quite scarce.
029 Forbes, Charles. Iceland; Its Volcanoes, Geysers, and Glaciers. London: John Murray, 1860. 1st Edition. viii,(2),335,32pp. Very good. 8vo. Original purple gilt decorated cloth. Coated brown endpapers with original binders ticket. Binding with a bit of uneven fading but much better than normally found for purple cloth. Frontispiece. Folding map at rear. 21 Illustrations including one on the title page. SOLD
This predominantly natural history volume includes interesting travel detail on the South Western portion of the island.
030 [Franklin, Sir John]. Narrative of Some Passages in the History of Van Dieman's Land, During the Last Three Years of Sir John Franklin's Administration of Its Government. London: Not Published, 1845. 1st privately printed edition. v,157pp. Very good. 8vo. Bound in 19th century green half calf and marbled boards. Corners a bit worn. Text block clean. A very good plus copy.
6250.00
Sir John Franklin was named governor of Van Dieman's Land and took up the appointment in February of 1837. During the Franklin's stay both Sir John and Lady Jane were very active in local society but after seven years they had made several powerful enemies and were recalled home in June of 1844 by Lord Stanley. On the return trip Franklin had time to reconsider and record his views on the events that lead up to the recall. Franklin's side is presented in this book which was printed in a very small number for distribution.
031 Fries, Theodor Magnus. Gronland Dess Natur Och Innevanare Efter Aldre Och Nyare Forfattares Skildringar Samt Egen Erfarenhet. Upsala: Esaias Edquist, 1872. 1st printing. (6),176pp. Very good. 8vo. Original purple gilt decorated cloth. Lithograph frontispiece. 3 other coloured lithos. 6 black and white illustrations at the end. Four in text illustrations. Single page port. Original coated yellow endpapers. Old institutional rubber stamp on front endpapers and title. A very attractive clean copy. 575.00
The four coloured plates are wonderful ethnographic depictions and show a kayak, umiak, and the interior of a house.
032 Greely Expedition. Survivors of the Greely Exploring Expedition. Haverhill, Mass: A.W. Anderson, 1884. (Photograph) Near fine. Albumen cabinet photograph on original printed mount listing the survivors names. Tones rich and clear. A very nice example. SOLD
The photographer A.W. Anderson produced at least six different cabinet card images of the survivors both in studio poses and outdoors. This example is taken in the studio with the front row individuals holding hats and canes. See photo.
033 Grinnell, George James. A Death on the Barrens a True Story with an Introduction by George Juris Luste. Toronto: Northern Books, #0-96804040-3, 1996. 1st printing. v,334pp. Very good. 8vo. Original printed glossy illustrated paper wrappers. Single page map. 28 illustrations. A little soiled and rubbed. SOLD
This gripping tale illustrates a 1955 Barren Lands canoe trip that went terribly wrong. Signed and dated by the author.
034 Harrington, John. The Franklin Recovery Expedition. Privately Printed, 1993. 1st. 5p.l.,98pp. Very good. Quarto. Printed on rectos only with hand-coloured illustrations and coloured plates from photos. Bound in gilt lettered leather backed black cloth boards. Minor old water stain on the bottom of the first couple of leaves. SOLD
Account of the 1993 Franklin Recovery Expedition to excavate, analyze and interpret a Franklin site discovered on King William Island during the summer of 1992. The author made several privately funds trips to King William to look for evidence of the Franklin Expedition. Each copy of the narrative was dedicated to one of the crew members on the Erebus and Terror. This being 25/67 of the Erebus edition out of a total edition of 129 copies, dedicated to John Downing, Petty Officer and Quartermaster. As each copy of the book was hand coloured by the author it is thought that only a small number of copies were actually finished.
035 Hauptman, William. John Webber 1751-1793 Pacific Voyager and Landscape Artist. Manchester: Whitworth Art Gallery, #3-906628-09-4, 1996. 1st printing. 255pp. Near fine. 4to. Original glossy illustrated printed wrappers. Lavishly illustrated with over 64 both black and white and colour illustrations. 150.00
John Webber was the artist on Cook's third and last Pacific voyage. This spectacular catalogue was produced in both English and German and only two venues were to get the exhibit; the Kunstmuseum in Bern and the Whitworth Art Gallery at the University of Manchester. The print run seems to have been quite small.
036 Hezzanith. Binoculars in a Custom Made Seal Skin Case. [no date]. Very good. Approx Measurements: 6 3/4" Tall 7 1/4" Tall (W lens extensions) 5" Wide. Lenses are intact and can be viewed through, but original Canada Balsam cement between lenses elements has crazed. Cover photo. SOLD
An attractive and unusual pair of binoculars in a custom made seal-skin case. "Hezzanith" Engraved into Main Focus Screw Area Approx from WWI Era based on serial # 1329. Brown Leather Outer Lens cover, lacking on one side. Large Objective Lenses. Metal Thumb Screw. Extendable Lens shades. Made by Heath & Co., an English firm that began making nautical instruments in 1835, adopted the Hezzanith trademark. Leather Carrying Case fitted with seal-skin, leather shoulder strap (approx 40" Long) A great display item for the library!
037 Holland, Clive. Arctic Exploration and Development C. 500 B.C. To 1915 an Encyclopedia. New York: Garland Publishing, Inc., #0-8240-7648-6, 1994. 1st printing. xvi,704pp. Near fine. 4to. Original blue decorated boards. Printed on 250 year acid free paper. Extensive section at the back of maps of the whole of the north polar region. The book was cased a little poorly otherwise in as new condition. SOLD
This was really a continuation of the earlier Cooke and Holland the Exploration of the Northern Canada and included the whole of the world and not just Canada. An exhaustive resource that went out of print very quickly with most copies going into libraries. Limited to only 500 copies and now very scarce.
038 Hulth, J.M. Swedish Arctic and Antarctic Explorations 1758-1910. Bibliography, Pt. 1. Uppsala & Stockholm: Almqvist & Wiksells Boktryckeri A.-B., 1910. 1st printing. (Wrappers) 148pp. Very good. Card boards.Top edges uncut. Library stamp on front cover and p. 1.
SOLD
Comprehensive bibliography of Swedish polar explorations and research, arranged by discipline. Part 2 containing biographical notes on members of Swedish expeditions, plus index, followed later in 1910.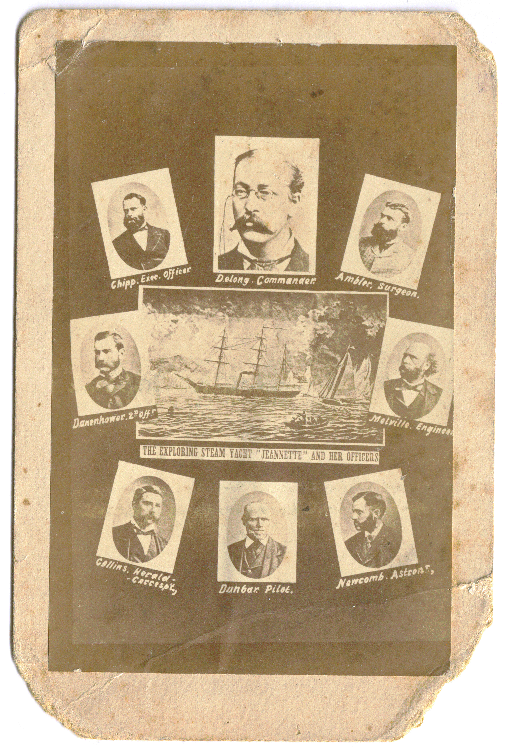 039 Jeanette Expedition. The Exploring Steam Yacht "Jeanette" and Her Officers Composite Photograph. [circa 1879]. (Photograph) Good to very good. Original albumen photograph on original mount. Mount has three of four corners damaged. Old crease across the bottom just effecting image but not very visible. Other than the damage to the mount the image presents very well and only has minor issues. See photo. SOLD
I have seen several examples of this image and all seem to be worn and somewhat faded; this example is better than normal.
040 Jones, T. Rupert. (editor) Manual of the Natural History, Geology and Physics of Greenland and the Neighbouring Regions; Prepared for the Use of the Arctic Expedition of 1875, Under the Direction of the Arctic Committee of the Royal Society, Together with Instructions Suggested by the Arctic Committee of the Royal Society for the Use of the Expedition. London: George E. Eyre & William Spottisswoode, 1875. 1st edition. (Half calf and marbled boards) vi, 86; xii, 783pp. Very good. Octavo; recently rebound in half calf with marbled boards and matching marbled endpapers. 3 folding maps and some B&W illustrations in text of geological essays. Library stamps on rear of maps, occasionally throughout text and on edges. A very clean, handsome copy except of the stamps. 1250.00
Manual and instructions prepared for the British Arctic Expedition, 1875-76, under Captain Sir George Strong Nares, on board HMS "Alert" and "Discovery" aimed at attempting to reach the North Pole from northern Ellesmere Island . Includes essays by a wide range of contemporary experts. Despite extensive preparations (of which this volume is emblematic) the expedition had to be cut short due to a serious outbreak of scurvy. Very scarce.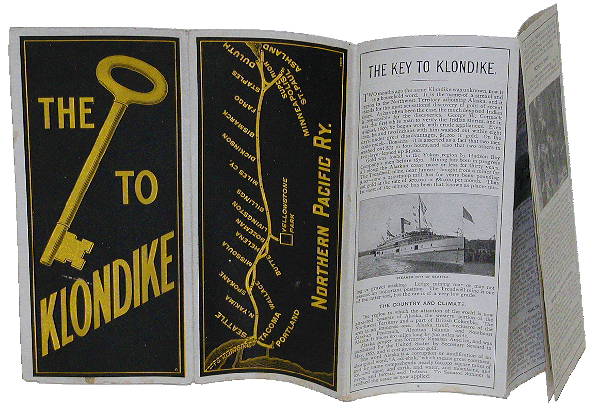 041 Klondike. The Key to the Klondike. Chicago: Northern Pacific Railway, 1897. 1st printing. 13pp. Near fine. Issued without dust jacket. Folding brochure (10 X 21 cm.) that opens to a large coloured map of the Klondike Gold Fields and Alaska. The text portion is fully illustrated with views of mining, travel, housing in the north, and claims. After reading this I want to go and make my fortune! Other than a few fold tears in excellent condition. See photo.SOLD
Very Scarce. Does not appear to be in any of the standard bibliographies. Very attractive use of a Key on the front wrapper.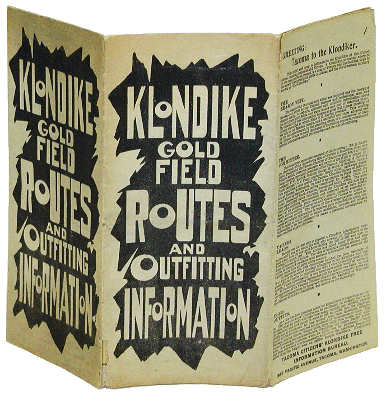 042 Klondike. Klondike Gold Field Routes and Outfitting Information. Tacoma, Washington: Tacoma Citizens' Klondike Free Information Bureau, 1897. 1st printing. 10pp. Very good. Folded advertising brochure (10 X 22 CM) that unfolds to form a large map (43 X 60 CM) of the route to the Klondike from Tacoma. With an inset map of the Gold Fields and the Upper Yukon River area. Title page forms front and back wrappers with a total of ten pages of interesting text. Minor browning and a few minor fold tears but a very good example of a very scarce item. See photo. SOLD
Scarce. Not in Tourville. Prime Klondike ephemera.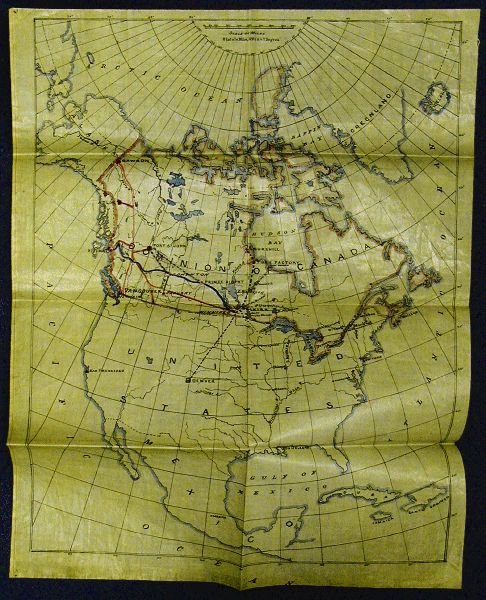 043 Klondike. Original Hand Drawn Map of North America Showing Various Routes Eminating from Winnipeg and Extending West to Dawson City and Atlin. [ca 1905]. Very good. The map (32.5 X 42.5 cm.) is professionally drawn with draftsman quality on old oil cloth. Hand lettered throughout. Canada and North America are outlined in coloured wash. Route details are added with pen or coloured pencil. Map has been folded at one time but is in very nice condition. See photo. SOLD
The map seems to have been produced to show the possible routes or routes taken by someone on a Western Canadian journey heading as far north as Dawson. A dotted line shows a route from Denver to Churchill Man. Blue and red lines show routes to the west and the north. There is no other indication as to the maps origin or use other than the word pamphlet written in pencil in the bottom right corner.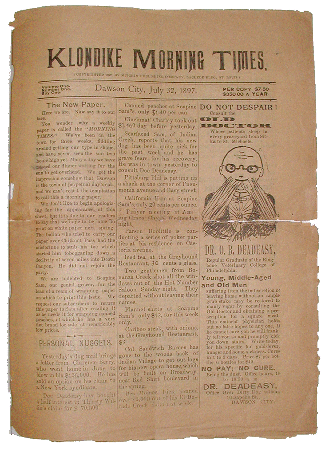 044 Klondike Morning Times. Klondike Morning Times. Volume 1, No. 1; July 32, 1897. St. Louis: Mitchum Publishing Co., 1897. 1st Edition. (Newspaper) 4pp. Very good. Tabloid format; approx 12" X 8.5" Issued at Dawson City, Yukon. Four pages of 'news' and advertisements. Toned, with tearing at midline fold. Can be safely handled and opened with care. SOLD
Semi-serious coverage of local events and personalities. 'An Antidote for Gold-Fever', the Klondike Morning Times claimed to be the 'Semi-Official newspaper of Dawson City' Its editor of record was Alas P. Yorick. Distributed in Dawson Cit, Yukon, this newspaper was actually printed in St. Louis. The first press would not arrive in the territory until 1898, presumably when spring break-up permitted steamers to carry equipment and supplies up the Yukon River from St. Michaels, Alaska. The Union List cites the paper and first publication date: Klondike Morning Times [Dawson], 1897. An unusual and rare piece of Klondike ephemera. See photo.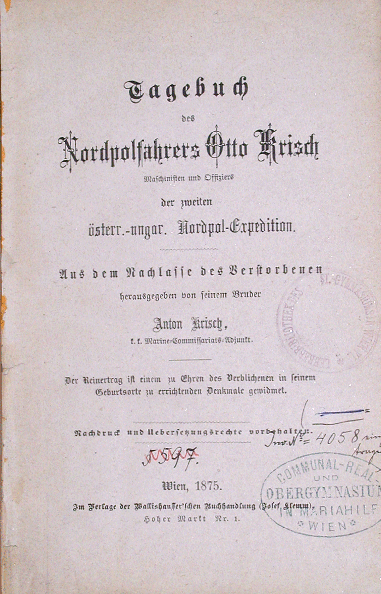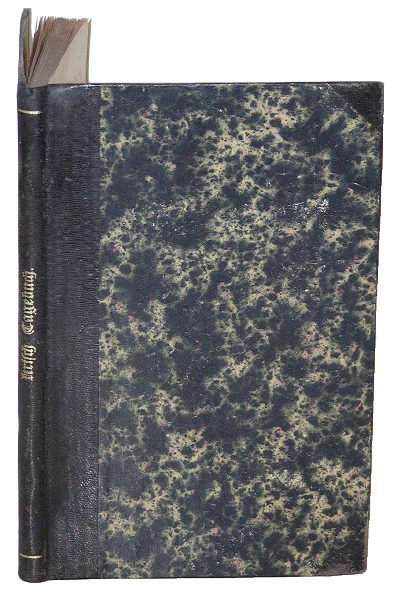 045 Krisch, Anton (Ed.). Tagebuch Des Nordpolarfahrers Otto Krisch Maschinisten Und Offiziers Der Zweiten Österr.-Ungar. Nordpolar-Expedition. Aus Dem Nachlasse Des Verstorbenen. Vienna.: Verlag Der Wallischausser'schen Buchhandlung (Josef Klemm)., 1875. 1st Edition. (Hardcover) 116pp. Very good. Bound in 19th century half morocco and pattern paper boards. Two old library stamps on title page along with a small ink number. A clean attractive copy of a very scarce title. 2250.00
Otto Krisch was the engineer on board "Tegetthoff", the expedition ship of the Austro-Hungarian North Pole commanded by Karl Weyprecht and Julius Payer. Beset in the ice in the northern Barents Sea in October 1872 the ship drifted north in the ice until within sight of the previously unknown islands of Zemlya Frantsa-Iosifa (Franz-Josef Land). In the spring of 1874 Payer led a sledge party that explored much of the western part of the archipelago, as far north as Mys Fligeli (Cape Fligeley), Ostrov Rudol'fa (Rudolph Island), the northern tip of the archipelago. In the fall the ship was abandoned and her crew retreated south by sledge and boat. Krisch died of tuberculosis on board ship on 16 March 1874, and was buried on Ostrov Vil'cheka (Wilczek Island) See photo.
046 Lee, Henry. The White Whale. London: R.K. Burt and Co., 1878. 1st printing. (Wrappers) 16pp. Near fine. Original yellow wrappers; no illustrations; no maps. A clean, bright copy. 85.00
A detailed survey of sightings of the beluga whale, starting in 1860. Includes information on the natural history of the species.
047 Levere, Trevor H. Science and the Canadian Arctic a Century of Exploration 1818 - 1918. Cambridge: Cambridge University Press, #0-521-41933-6, 1993. 1st printing. xiv,438pp. Near fine in near fine dust jacket. 8vo. Original black cloth with silver lettering. Endpaper maps. Two double page maps. 41 figures. An as new copy in like new wrapper. 125.00
This very scholarly study includes chapters on Science and the Navy, Navy and Northwest Passage, Nares Expedition, etc. Book seems quite uncommon in hardcover.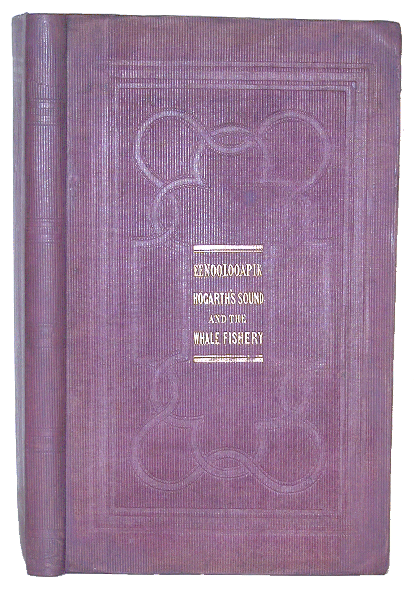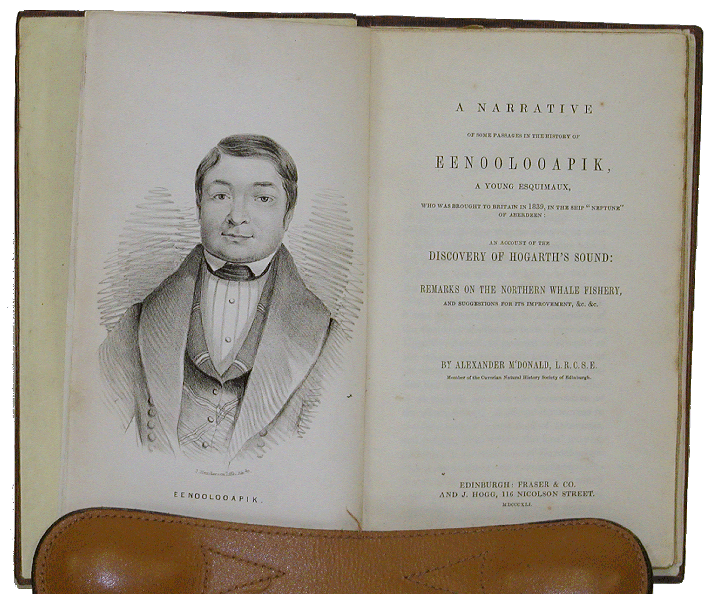 048 M'donald, Alexander. A Narrative of Some Passages in the History of Eenoolooapik, a Young Esquimaux, Who Was Brought to Britain in 1839, in the Ship "Neptune" of Aberdeen; An Account of the Discovery of Hogarth's Sound: Remarks on the Northern Whale Fishery, and Suggestions for Its Improvement, &. Edinburgh: Fraser and Co., 1841. 1st Edition. iii,149pp. Near fine. Original straight grained decorated purple cloth. Gilt titling on the front board. Coated yellow endpapers. Half title. Frontispiece. 2 folding maps. Folding facsimile. Meteorological tables at rear. Minor amount of soiling to the text. Boards with a small amount of restoration. Generally a wonderful copy. SOLD
Arctic Biblio. 10589 This is the account of two voyages under Penny in the ship Neptune. It details Eenoolooapik's visit to England and his return to Baffin Island. A very rare title indeed. This being only the third copy I am aware that has changed hands in recent memory. See photo.
049 MacInnes, Tom. (editor) Klengenberg of the Arctic: An Autobiography. London: Jonathan Cape, 1932. 1st Edition. (Hardcover) 360pp. Very good in fair to good dust jacket. Octavo; hardcover in blue cloth. Nine plates from photos (including frontispiece portrait). Dust wrapper is somewhat soiled and is missing a quarter inch chip from the top of the spine. Dedication by Vilhjalmur Stefansson's widow, Evelyn Stefansson-Nef. Bookplate from Stefansson Collection, Dartmouth College. SOLD
A.B. 8812. Account of a life as a trapper, hunter and trader for 34 years at Points Hope and Barrow in Alaska, Herschel Point in the Yukon, and Rymer Point on Victoria Island.
050 Markham, Sir Clements. Life of Admiral Sir Leopold McClintock, K.C.B., D.C.L., L.L.D., F.R.S., V.P.R.G.S., By an Old Messmate. London: John Murray., 1909. 1st edition. (Hardcover) xx,370pp. Very good, no dust jacket. Octavo; original blue cloth. 23 plates (including frontispiece portrait from photo; 7 maps. Bookplate. An excellent copy often found in poor condition. SOLD
AB 10940. The author and McClintock were messmates on board HMS "Assistance" (Captain Erasmus Ommanney) during the Royal Navy's search for the missing Franklin expedition in 1850-51. He also participated in three other Franklin search expeditions: that on board HMS "Enterprise" in 1848-49; HMS "Intrepid" in 1852-54; and that on board "Fox" in 1857-59. He is probably best known for achieving the second-longest man-hauling sledge expedition (from Dealy Island to Prince Patick Island and back) in 1853, and for finding the only document that provided some clue as to the ultimate fate of the Franklin expedition, on King William Island, in 1859.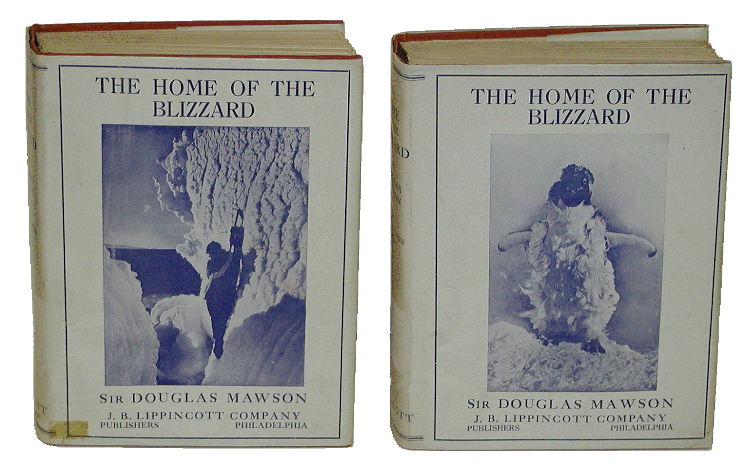 051 Mawson, Sir Douglas. The Home of the Blizzard. Being the Story of the Australasian Antarctic Expedition, 1911-1914. Philadelphia: J. B. Lippincott Company, [1915]. 1st American Edition. (Hardcover) xxx,348;xiii,338pp. Near fine in near fine dust jacket. In two volumes Quarto. Two photogravure plates (frontispieces), twenty-one coloured plates, B&W plates from photos, illustrations (including maps), and three folding maps in rear pocket (vol. II.). A clean attractive copy. The first US Edition bound from the sheets printed in England. This edition bears variation in the illustrations. This variant edition is bound in orange cloth as opposed to the blue. Both volumes in the original very attractive dust wrappers. Both wrappers have had some minor restoration on the spines where the original printed price was removed. These have been refilled in by a paper restorer. A few minor old tape marks visible on Volume one only. SOLD
Rosove 217 A2 variant d. Spence 773. Account of the 1911-14 Australasian Antarctic Expedition led Mawson. Shore parties wintered at Cape Denison and on the Shackleton Ice Shelf. By ill luck the Cape Denison base was located in an area of constant gale-force winds, hence the title. In December 1912 a sledge party reached the South Magnetic Pole, located by Eric Webb. At the same time a party consisting of Mawson, Ninnis and Mertz were exploring eastwards across King George V Land; only Mawson returned to base, Ninnis fell down a crevasse and Mertz died of starvation. The expedition would discover 1,320 miles of land, including the Mertz, Denman, and Scott Glaciers, and the Davis Sea, and map 800 miles of coastline between Gaussberg and Cape Adare. See photo.
052 Mcrea, Robert Barlow. Lost Amid the Fogs: Sketches of Life in Newfoundland, England's Ancient Colony. London: Sampson Low, Son, and Marston., 1869. 1st edition. (Hardcover) xv,299pp. Very good. Octavo; coloured frontispiece from painting. Original decorative red cloth, with decorated spine and gilt edges. Some soiling on back cover. Otherwise a clean, tight copy. 600.00
O'Dea 755. Text appears more like a novel than a true history book. The attractive frontis. litho is of Quiddi Viddi Lake, St. John's Newfoundland. Very scarce with O'Dea locating only two copies.
053 McIlraith, Frank. Life of Sir John Richardson. London: Longmans, Green and Co., 1868. 1st Edition. xi,280pp. Very good. Original blue decorated cloth. Original endpapers with minor staining. Frontispiece portrait from photo; one other illustration, Old book plate and old bookseller's ticket. Occasional pencil underlining. Otherwise clean, crisp copy. SOLD
Sir John Richardson was surgeon on both of Franklin's overland expeditions. The first of these (1819-22) explored the arctic coast from the mouth of the Coppermine to Kent Peninsula, and on the second, (1825-27) Richardson explored the coast from the MacKenzie Delta to the Coppermine. Along with Dr. John Rae he subsequently mounted a search for the missing Franklin expedition along this same stretch of coast, 1848.
054 Mikkelsen, Ejnar. Lost in the Arctic. Being the Story of the ' Alabama ' Expedition, 1909-1912. New York: George H. Doran, 1913. 1st American Edition. (Hardcover) xviii,395 pp. Near fine. Original green silver decorated cloth. 68 plates. Large folding map at rear. Other than the corners being a little bumped a fine bright copy with little or no wear to the silver decoration on the front board. 300.00
Arctic Biblio. 11428. Narrative of the Alabama Expedition under Mikkelsen to search for Mylius-Erichsn and Hagen lost in 1907 during the Danmark expedition. See photo.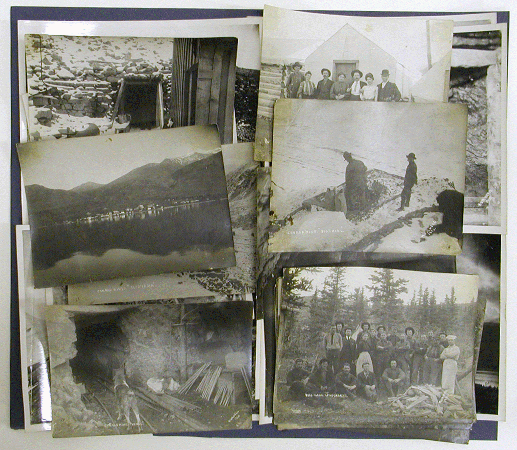 055 Muirhead Brothers Photographers. Conrad Mine Yukon Territory. An Important Archive of 20 Period Photographs Detailing Mining Activities at Conrad Mines, Yukon Territory, Circa 1906. Dawson City, Yukon Territory: Muirhead, 1906. (Photograph) Very good. An archive of twenty original photographs on thin paper; approx. 8" X 6", along with eight photographs of more modern origins, 10" X 8". Photographs show faint traces on reverse of having been lightly tipped into an album, with minor sporadic toning, otherwise in very good condition without loss. Information about each image on face. SOLD
A very interesting archive of images related to the Conrad Mines founded by John Howard Conrad, founder of Conrad City, Yukon Territory. Original images include: A View of Conrad City from across the lake; Windy Arm Men in a Boat on lake; Conrad Mines "Montana Tram"; "Resting That's All" horses carrying lumber up mountainside; "Billy's Maud Train" horses on steep trail; Conrad Mines "Montana" men picking at rock face; Conrad Mines "Venus" man pushing rail car; Maud is Resting horses loaded with supplies; Conrad Mines "Montana" 14 men in group shot; Conrad Mines "Big Thing"; Conrad Mines "Venus" mine face; Conrad Mines "Venus" view from inside mine; Conrad Mines "Montana" view of entrance in winter; Conrad Mines "Montana" Top of Tram system; Conrad City's "400" group of seven men and women in front of log-walled tents; Conrad Mines "Vault" working rock face; Conrad Mines "Venus" mine entrance watched by dog; Conrad Mines "Big Thing" men working at mine face; Conrad Mines "Big Thing" loading ore into bags; Road Gang Windy Arm Y.T. A group of 21 men. See photo.
056 Muller, S. Voyages from Asia to America, for Completing the Discoveries of the North West Coast of America. To Which Is Prefixed, a Summary of the Voyages Made by the Russians on the Frozen Sea, in Search of a North East Passage. London: Thomas Jefferys, 1761. 1st edition. (Hardcover) xliii, 76pp. Near fine. Quarto, 20th century quarter calf with marbled boards. Mild toning. A very clean solid and untrimmed copy of a scarce work. 4 maps (2 folding, with some colour). Bookplate: from the library of William E. Boeing. Very occasional ink annotations in margins. SOLD
Frank Streeter Copy. TPL 185, Lande 1358 and JCB 1300 (1ST EDS.); Sabin 51285; Translated from vol. Ill, part I of Mueller's Sammlung Russischer Geschichte... Of 1758, this edition of the English translation is enlarged by the addition of an index, and carries a new preface reflecting the changes wrought in North America by the Treaty of Paris, which brought the Seven Years' War to a close in 1763. Jefferys, in this new preface, takes issue with the maps which were drawn by the French as including too much territory under the name of Canada in order to lay claim to a great part of the continent. Mueller was a scientist under Bering, and his work contains the original account of Bering's polar expedition and of his discovery of the strait which is named after him; it was through this expedition that the westernmost limits of North America were discovered and explored as far south as the present-day Prince of Wales Island. The maps are A Map of the Discoveries by the Russians on the North West Coast of America, A General Map of the Discoveries of Admiral de Fonte and other Navigators...in Quest of a Passage to the South Sea (by de I'Isle), A Map of the N.E. Parts of Asia, and N. W. Parts of America, showing their Situation with respect to Japan, and A Map of Canada and the North Part of Louisiana with the Adjacent Countrys. "A work of great importance, being one of the earliest on this subject". - (Cowan)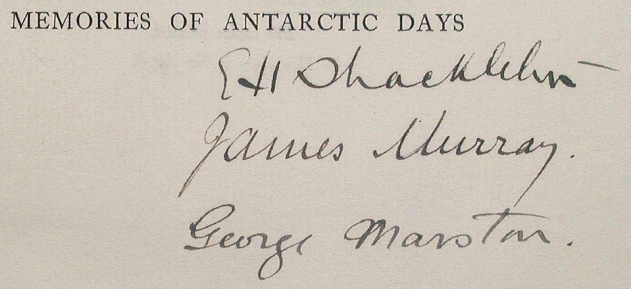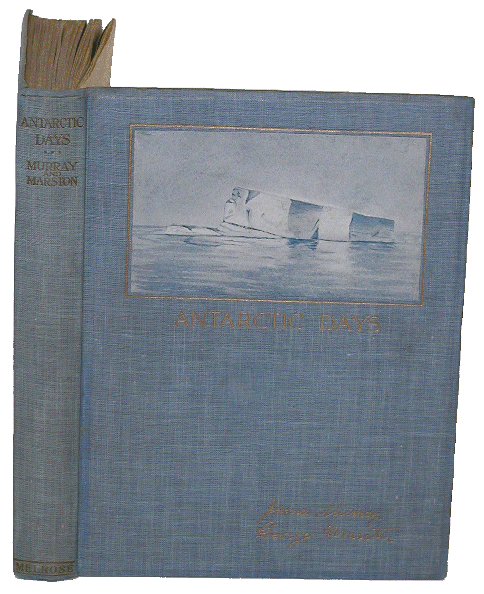 057 Murray, James; George Marston & Sir Ernest Shackleton. Antarctic Days. Sketches of the Homely Side of Polar Life by Two of Shackleton's Men. London: Andrew Melrose, 1913. 1st limited signed edition. xxi, 199pp. Very good, no dust jacket. 8vo. In original light blue publisher's cloth. Gilt titles, and reproductions of author's signature's in gilt, with glued on image of ice berg to front cover. 4 colour plates tipped in; 18 B/W photographic plates, and 19 B/W full page drawings. Cover gently rubbed with light soiling. Test block clean and solid. Front and rear hinges strong and fully intact. A very nice copy of a scarce and highly sought after edition that is notoriously difficult to find in this condition. 8250.00
Limited edition, #143 of 280. Signed on half-title by: Ernest H. Shackleton, James Murray, and George Marston. See photo.
058 Nagata, Takesi Edited By. Yamato Meteorites Collected in Antarctica in 1969. Tokyo: National Institute of Polar Research, 1975. 1st printing. i, 110pp. Near fine. Tall 8vo. Original silver printed blue cloth boards. Original glassine. Numerous photo illustrations. Charts and maps. A fine copy. 125.00
Special issue number 5 Memoirs of National Institute of Polar Research.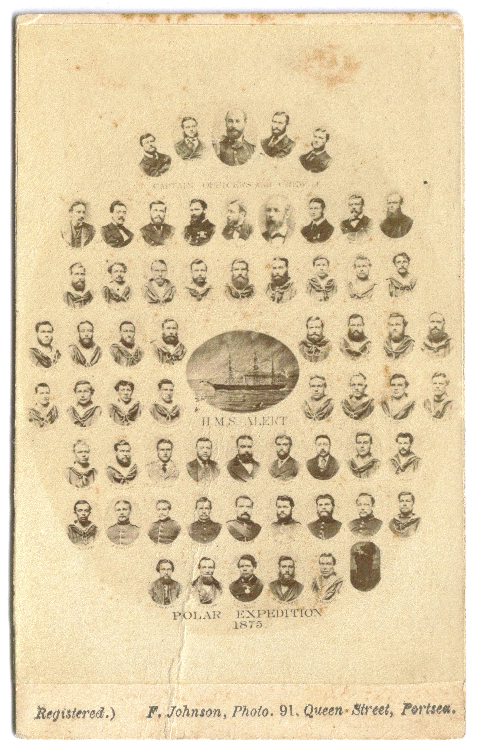 059 Nares Expedition. Carte de Viste Composite Photograph of the Crew of H.M.S. Alert Polar Expedition 1875 Including the Dog Mascot. Portsea: F.Johnson, 1875. (Photograph) Very good. Original vintage albumen photograph (6.5 X 10.3 CM) on original printed mount. Minor soiling and small tape stain on rear. Small old crease just effecting the image but not very visible. A very nice example.
400.00
This wonderful CDV comprises an image of each crew member and the mascot. The central image is of the ship. Souvenir photographs of both the Alert and the Discovery were taken by rival photographers before the departure of the expedition. Both produced CDV copes as well as much larger examples. Although quite small each portrait is very clear and the name of the individual is usually readable with a magnifying glass. Scarce.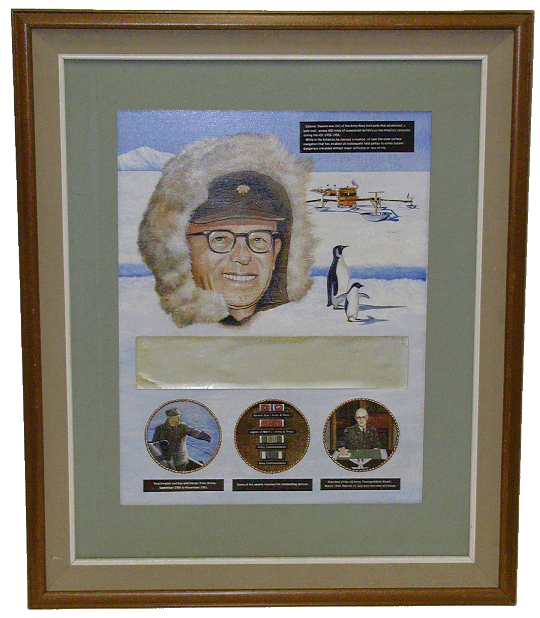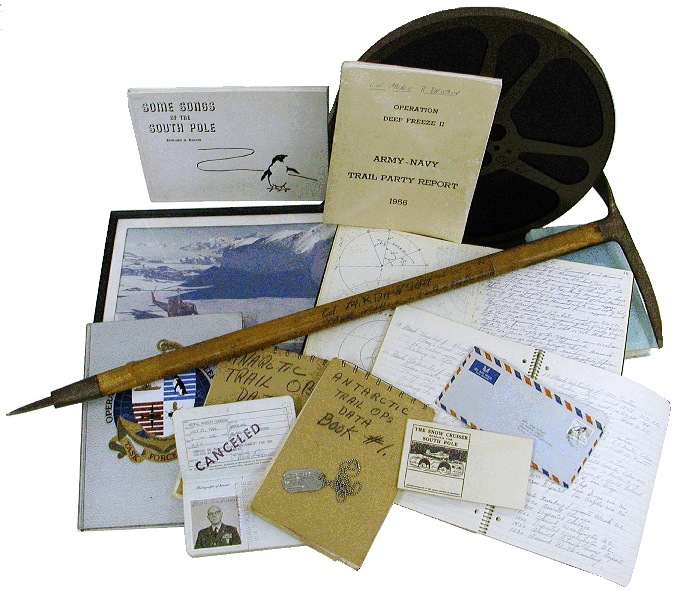 060 Operation Deep Freeze. Merle R. Dawson. Antarctic Archive from Operation Deep Freeze. 1956 - 1957. 1956. Very good. An important archive of mixed original materials. 3750.00
In 1956 Col. Merle R. Dawson, a Transportation Corps officer, and two other officers reported to the Deep Freeze staff as technical advisors on trail operations. Dawson was placed in charge of tractor trains and traverse parties. Later that year, in his first field mission, he led the first group of men from Fort Eustis into Antarctica. Dawson and 12 other Transportation Corps members had the mission to survey and build a safe trail across unexplored Antarctic territory. Finding a safe route was important over uncharted lands. They used a vehicle designed by Dawson, resembling a large spider, to detect hidden crevasses. Contents of this archive include his ice axe from 1957, two steno books labeled "Antarctic Trails Ops Data#1 and #2" with field notes and photographs. A lined 8x10 notebook journal from 20 July 1956 to 12 May 1957, Dawson's passport, dogtags and photo portraits, a 4 page letter from Dawson to his wife, posted from Antarctica and mailed from Melbourne, 1 illustrated envelope that Dawson found in a "snowlocomobile" from Byrd's 1939 expedition, Dawson's Navigation Note Book from 1942, a year book of Operation Deep freeze, a couple of books relating to Antarctica, a 16 MM film reel of the original movie of Dawson's exploits, "Eleven Against the Ice," and a commemorative oil painting, framed, of Dawson, and vehicle he designed. See Back Cover.
061 Parry, William Edward. Journal of a Voyage for the Discovery of a North-West Passage ... Together with a Supplement to the Appendix of Captain Parry's Voyage ... Together with the North Georgia Gazette and Winter Chronicle.. Vol. I.; Journal of a Second Voyage for the Discovery of a North-West Passage ... Vol. II; Appendix to Captain Parry's Journal of a Second Voyage... Vol. III; Journal of a Third Voyage for the Discovery of a North-West Passage ... Vol. IV.; And Narrative of a Voyage to Reach the North Pole. Vol. V. London: John Murray, 1821-1828. 1st Editions. 4p.l.,xxix,[2],310,clxxix;4p.l.,xxx,[2],571;xxviii,186,[2],151;xxii,[2],229;3p.l.,clxxi-cccx[ie ccx],2p.l.,432,xii,132pp. Very good. Five volumes Quarto uniformly bound in full calf, marbled endpapers and edges with numerous plates and maps (part folding), illustrations in text, and tables (part folding). Volumes II-V, rebacked with new gilt spines and gilt lettered black and red morocco spine labels, with Volume I rebound to match the rest of the set. Occasional offsetting from plates. Odd bit of marginal staining and fraying to Vol. I. Else a clean, attractive set.
12500.00
AB 13145; 13142; 13144; 13146; and 12547. A complete set of Parry's voyages including three for the discovery of a North-west passage, the first which was one of the most successful arctic voyages of the 19th century and an attempt to reach the North Pole, along with the North Georgia Gazette and appendices, seven titles complete in five volumes. Very Scarce as a complete set. Cover photo.
062 Peyrouse, M. de La. A Voyage Round the World. Performed in the Years 1785, 1786, 1787, 1788, ... Abridged from the Original French Journal of ... Tio Which Are Added a Voyage from Manilla to California by Don Antonio Maurelle: And an Abstract of the Voyage and Discoveries of the Late Capt. G. Vancouver. Boston: Joseph Bumstead, 1801. 1st American. vi,7-333pp. Very good. 16 mo. Original full tree calf. Gilt rules on spine with calf label. Joints and corners have had some professional restoration. Boards slightly warped. No illustrations as issued. Text block is somewhat soiled and stained which is expected from an American book of this period. A superior copy to what is normally found. SOLD
Fersuson 333, Sabin 38966, Howes L-93. Early 19th century ownership inscription of Harriot S. Field. First American edition. The Streeter copy which was not as nice made $1440.00 last year.
063 Peyster, J.Watts De. The Dutch at the North Pole and the Dutch in Maine a Paper Read Before the New York Historical Society 3 March 1857. New York: New York Historical Society, 1857. 1st printing. (Wrappers) 80pp. Very good. Original printed yellow wrappers with vignette of ship on front. Errata tipped onto inside of rear wrapper. Minor dust soiling but overall a very attractive copy.
125.00
The first 44 pages deal with the Dutch at the North Pole with the main emphasis on William Barentz.
064 Poncins, Gontran De. Kabloona. New York: Reynal & Hitchcock, Inc., 1941. 1st limited edition. (Hardcover) 339pp. Near fine. Octavo. Illustrated with plates from photos and drawings in text and coloured frontispiece. Bound in original black cloth backed blue boards with small gilt decoration. SOLD
This is the very scarce limited edition, this being 156/400 copies. Arctic Biblio. 13701 This is Poncins account of his life with the Nesilik Eskimo on King William Island 1938-39.
065 Ponting, Herbert G. and Hanford, Charles B. One Week Beginning Sept. 28, 1913 Matinees Daily. The Gaumont Co. Ltd. Of London by Arrangement with the British Antarctic Expedition and Mr. Herbert G. Ponting Has the Honor to Present an Animated Picture Record and Lecture Illustrative and Descriptive of the Undying Story of Captain Scott and "Animal Life in the Antarctic" Recorded by Herbert G. Ponting R.R.G.S. London, Official Artist of the Expedition. Oakland, Ca: Enquirer, 1913. Fine. Broadside ( 13.5 X 35.5 cm.) printed on two sides, in fine condition other than a single fold in the middle. SOLD
Wonderful broadside for an illustrated Lecture at the MacDonogh Theatre in Oakland California. "These pictures are projected by the Simplex Machine, manufactured by the Precision Machine Co. New York" the presentation was in four parts and detailed Scott's trip from beginning to end. Pencil notations next to each part indicate the whole presentation with intermissions would take over 2 and a half hours! Price was not indicated but it much have been good value for the money. See photo.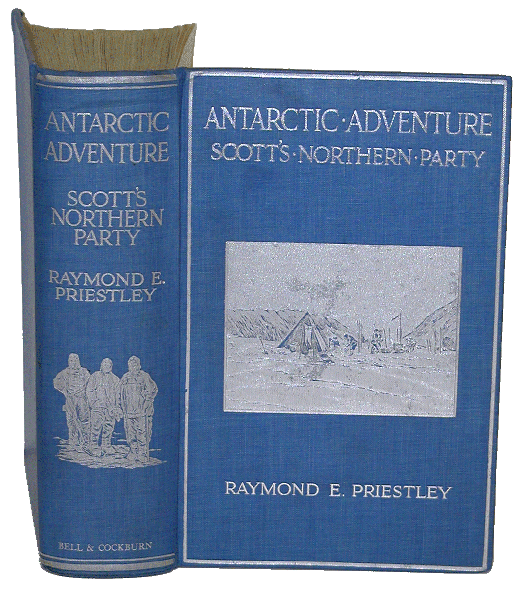 066 Priestley, Raymond. Antarctic Adventure. Scott's Northern Party. Toronto: Bell and Cockburn, [1914]. 1st Canadian. (Hardcover) 382pp. Near fine. Original silver decorated blue cloth. Frontispiece. Half title. 150 illustrations. 3 folding maps. A far superior copy to normal with virtually no fading to the spine and the silver gilt decoration fresh and with little wear. Minor bumping to the rear corners. SOLD
This edition not in Spence or Taurus Collection, Rosove 256.A3. This first Canadian edition has the same collation as the first UK and bound from sheets printed in the U.K. The first edition is supposed to have had many copies destroyed in a warehouse fire. This Canadian edition seems to be the scarcest of the three first printings. See photo.
067 Puck Magazine [Friedrich Graetz]. How to Dispose of Our Navy. An Original Colour Lithograph. New York: Puck, [circa 1880]. Very good. An original coloured lithograph illustration from Puck Magazine circa 1880's. Original art by Friedrich Graetz 1840 - 1913. Framed without glass. Image is approx. 33 X 24 cm. Frame 48 X 38 cm. SOLD
Typical Puck commentary. A corner vignette labeled "American Shipping in Distress" the Only Place where the American Flag may be seen [6 ships bearing the stars and stripes piled onto an iceberg] is set in the right corner of the larger image showing an arctic ocean scene populated by American ships and their captains looking for each other, complete with cavorting Polar Bears, and a column of bears climbing the North Pole. Ships identified are: the Jeanette; Rodgers looking for Jeanette; Corwin looking for the Rodgers; Pawnee looking for the Corwin; and the Huron sent after Pawnee & etc. A very attractive image.
068 Reid, J.R. (Jack). My 4 1/2 Years in the Klondike. Vancouver, B.C.: Shaughnessy Heights Golf Club, [circa 1948]. 1st printing. (Wrappers) (3),17pp.. Very good. Original printed wrappers. 11 X 17 cm. Edges somewhat soiled with an old stain on the front, internally fine. SOLD
Not in Tourville or any standard bibliographies. Wonderful bit of Klondike ephemera. Reid details his account of the Gold Rush which was published by his Golf Club in Vancouver probably in the late 1940's or early 50's.
069 Revillon Freres. Robert Flaherty Photogravures of Eskimos. New York: Revillon Freres, [circa 1925]. 1st Edition. 6pp. Very good. Original grey paper covered, fold over cardboard box. Box is quite worn. Inside is a heavy paper folder to hold the prints. This folder is heavily stained on the outside. Inside are six loose photogravure plates with the original margins being 33.5 X 50 cm. The image sizes vary. Three images are full size and three have had the margins cut down. These three images were matted. All images still have ample margins but the three trimmed images vary in size. Four of the six still have the original tipped on paper label. The three wide margin images are generally very clean with only minor edge fraying. The three trimmed images have a bit of staining from the mat with one image having a small old tide line which really does not efect the image. Overall they are very attractive as a set. Also included is a colour photocopy of the original insert which accompanied the set. 1950.00
The insert states that the six images were chosen from a group of 18 and were made during a series of five expeditions over eight years. Contents as follows: the Huskie; Eskimo Kayak in Northeastern Hudson Bay; the Hunter, Eskimo in the rough ice-fields; Nyla and child; Allegoo; and Tooktoo. The set has its faults but is very scarce on the market these days. Cover photo.
070 Ross, John. Explanation and Answer to Mr. John Braithwaite's Supplement to Captain Sir John Ross's Narrative of a Second Voyage in the Victory, in Search of a North-West Passage. London: A.W. Webster, [circa 1835]. 1st printing. 8pp. Very good. 4to. Bound in old plain green wrappers. Contents are clean and crisp.
500.00
Arctic Biblio. 14863. This example is missing the original printed wrappers which had the title printed on the front. This is just the contents of the wrappers and the price has been heavily discounted from an example complete with them. Complete with a photocopy of the title as it appears on the wrapper.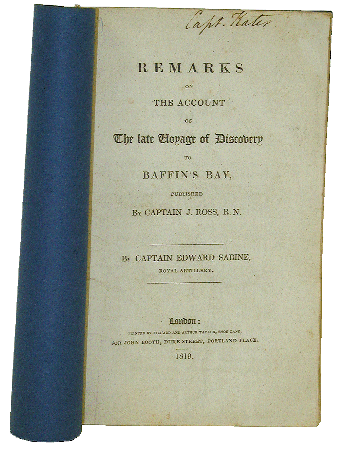 071 Sabine, Captain Edward. Remarks on the Account of the Late Voyage of Discovery to Baffin's Bay, Published by Captain J. Ross, R.N. London: Printed for Richard and Arthur Taylor for John Booth, 1819. 1st printing. 40pp. Very good. Small 8vo. Bound in contemporary blue wrappers. Contents a little soiled and stained otherwise a very nice copy. 5000.00
This pamphlet is one half of the famous Ross Sabin pamphlet war that occurred after Ross's ill fated first arctic expedition. In this present work Sabin defends himself and describes his duties and observations of the voyage, refuting Ross's claim to having made them himself. This copy bears the signature of Captain Henry Kater (1777-1835) who with Sabin made extensive researches into the beating of pendulums. See photo.
072 Scoresby-Jackson, R.E. The Life of William Scoresby, M.A. D.D. F.R.S.S.L. & E. Corresponding Member of the Institute of France, Etc. London: T. Nelson and Sons, 1861. 1st Edition. ix,406pp. Very good. Rebound in modern half calf and marbled boards. Four raised bands. Small 8vo. Speckled edges. Folding map. Frontispiece. Second title. Five tinted plates. Two diagrams. Occasional minor soiling to text but overall a very clean copy. 650.00
Not in A.B. This biography of Scoresby was written by his nephew. Seems unusually scarce.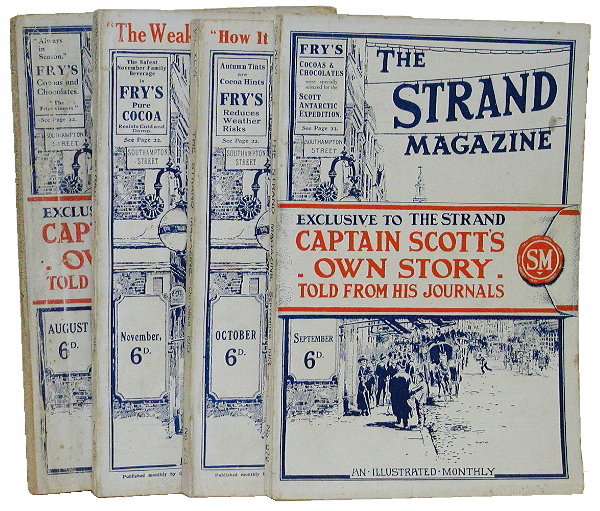 073 Scott, Captain. To the South Pole. Captain Scott's Own Story Told from His Journals. London: George Newnes, 1913. 1st Strand magazine printing. (Wrappers) 1-23, 123-145, 245-264, 365-383pp. Very good. 8vo. Four original issues of the Strand Magazine containing the complete story of Scott's Last Expedition. Consists of numbers 272, 273, 274, and 275 for the months of August, September, October, and November 1913. All issues are complete with the original ads and wrappers. The front wrapper of the first part has been reattached with some loose of the spine lettering. The Edges are a bit worn on the first part only. Second half of Polar, H.G. Ponting & Scott.
500.00
Scarce to find in this condition and complete. See photo.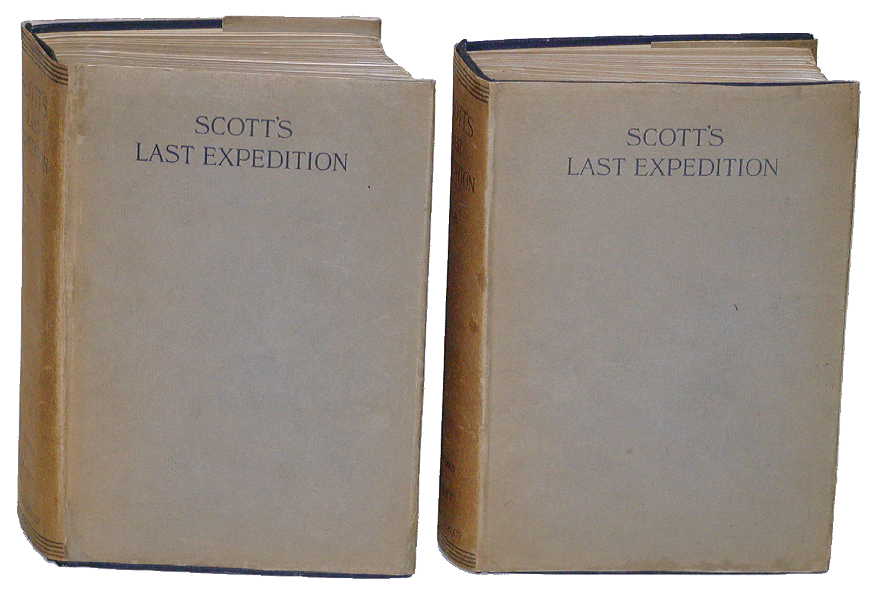 074 Scott, Robert F. Scott's Last Expedition. Vol I Being the Journals of Captain Robert F. Scott, R.N., Vol II Being the Reports of the Journeys & Scientific Work Undertaken by Dr. E. A. Wilson. London: Smith, Elder and Co., 1913. 1st edition. xxvi,633,(2); xiv,534pp. Very good. Two volumes. Octavo. Original vertical grained blue cloth. A little shaken, with minor wear. Corners a little bumped. Eight photogravure plates including frontispieces. Eighteen coloured plates. 257 photographic illustrations. 8 folding maps. 8 folding photographic panoramas on 4 folding plates. Folding plan. Text illustrations and diagrams. Dust wrappers have had a little professional restoration but overall are in great condition. SOLD
Rosove 290.A1; Spence 1056; Taurus Collection 77. The true first edition of the classic account of Scott's ill fated expedition. Reprinted many times, the first in attractive condition especially with the dust wrappers are very scarce. See photo.
075 Senn, Dr. Nicholas. In the Heart of the Arctic. Chicago: W.B. Conkey Company, 1907. 1st American Edition. 336pp. Near fine. 8vo. Original gilt decorated green cloth boards. Frontispiece. 74 black and white illustrations. Decorated green endpapers. 250.00
Arctic Biblio. 15740. Inscribed from the author to President H. B. Brown.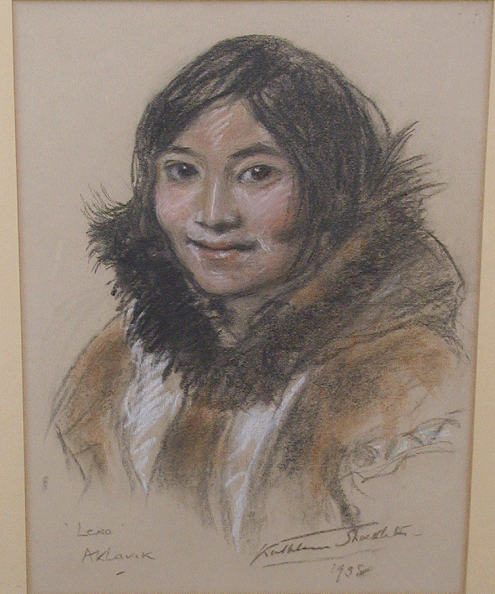 076 Shackleton, Kathleen (1884-1961). Lena? Aklavik (Original Eskimo Painting). 1938. Very good. Original pastel portrait (image size 37 X 52 cm.) on paper (we have not examined the image out of the frame) of an Inuit women from Aklavik. Boldly signed and dated 1938. 1500.00
Kathleen Shackleton was the sister of Sir Ernest Shackleton. In 1937 she applied to the HBC for a commission to travel up the MacKenzie River and produce 3 dozen portraits. For this she was to paid 2000 dollars excluding expenses. Her purpose was to depict the northern peoples and portray the Hudson Bay Companies interests for both of their benefits. Unfortunately she became entangled in controversy with the Anglican Church in Aklavik. Our portrait is named, and with further research it is possible to determine a better history of the sitter. For a good history of her trip in the north see Alone in Silence, European Women in the Canadian North by Barbara Kelcey. See photo.
077 Shackleton/Scott. Gabardine in Peace and War. London: Burberrys, [circa 1911]. 1st printing ? 142pp. Good to very good. Small 8vo. Original cloth backed paper covered boards. Paper boards are quite soiled, worn and scuffed. Endpapers a little grubby but the contents are clean without problem. Numerous portraits and line drawings. SOLD
Gabardine was a registered fabric of Burberrys and was heavily promoted for all aspects of outdoor pursuits. The polar chapter has testimonials from Shackleton, Scott, Nansen, and Jackson along with portraits of them using the clothing. Not the best copy but still a scarce item.
078 Sheldon, Charles. The Wilderness of the Upper Yukon. A Hunter's Explorations for Wild Sheep in Sub-Arctic Mountains. New York: Charles Scribner's Sons, 1911. 1st Edition. (Hardcover) xxi,354pp. Near fine. Octavo in original illustrated green cloth, top edge gilt, with four colour plates from illustrations by Carl Rungius and B&W plates from photos, 4 maps (including 1 folding partly coloured). Very minor wear at the bottom of the spine and at the corners otherwise a very nice copy. SOLD
An account of a hunter's exploration for wild sheep in the sub-arctic mountains. This copy is inscribed and signed by Sheldon on the front free endpaper. It is inscribed to A.B. Newell and dated Sept. 26th 1911. Newell was Vice President of the White Pass & Yukon Railway and is noted several times in the volume. Sheldon signatures are very uncommon.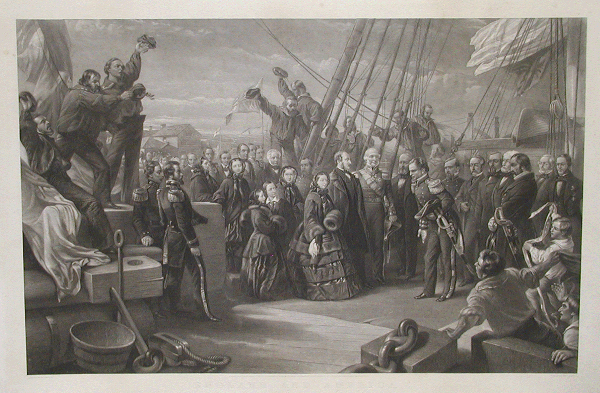 079 Simpson,William Engraved by George Zobel. England and America the Visit of Her Majesty Queen Victoria to the Arctic Ship Resolute December 16th 1856. Colnaghi and Co. and Gambart and Co., [no date]. Very good. Very large mezzotint engraving (98 X 66 cm.) laid down on old card stock which is heavily stained on the back from old oak backing and newspaper clippings which date from 1902, when it was originally framed. Complete with original oak frame and gold liner. There is no glass or backing material present. It can be shipped with or without the frame. The image in nice clean crisp condition with no damage and only minor dust soiling. 1750.00
Spendlove P79. This famous image depicts the visit of Queen Victoria at Cowes on December 16th 1856 to accept the return of the Resolute. The ship was found drifting in Davis strait in 1855 and upon returning to the United States was purchased by the American government, refitted and returned to England. Captain Hartstein presented her to the Queen who then in gratitude presented 100 pounds to be distributed among the crew. I believe Lady Franklin is standing just a few people behind the Queen making this one of the few portraits showing her. See photo.
080 Thomas Nelson and Sons. The Royal Readers Fifth Book of Reading Lessons. Toronto: Thomas Nelson and Sons / James Campbell and Son, [ copyright date 1883]. 1st Edition. (Hardcover) xii,[13]-520pp. Very good. 12mo. Illustrations by Giacomelli and other eminent artists. Original black decorated brown cloth. Rare. With tipped in typed letter from bookseller dated 1939 re scarcity; the book never received adoption by Ontario Education Dept. 250.00
Fifth Book Reader for Ontario schools; 19th C. Contains first account of discovery and exploration of the Pelly River by Robert Campbell p.435-443.
081 Thornton, Harrison Robertson. Among the Eskimos of Wales, Alaska 1890-93. Baltimore: Johns Hopkins, 1931. 1st Edition. xxxviii,234pp. Near fine. 8vo. Original green cloth boards with gilt titling and decoration. Frontis portrait. 51 illustrations including portraits. A review copy with the review slip loosely inserted. With the engraved bookplate of T.F. McIlwraith the author of the Bella Coola Indians. 300.00
Arctic Biblio. 17649 the volume was edited by the authors widow and brother. The author established a mission and school in Wales, Alaska in 1890 and ran the mission with William Thomas Lopp until he as killed in 1893. There is a biographic sketch of the author and contains much ethnographic detail. Quite scarce especially in this nice of condition.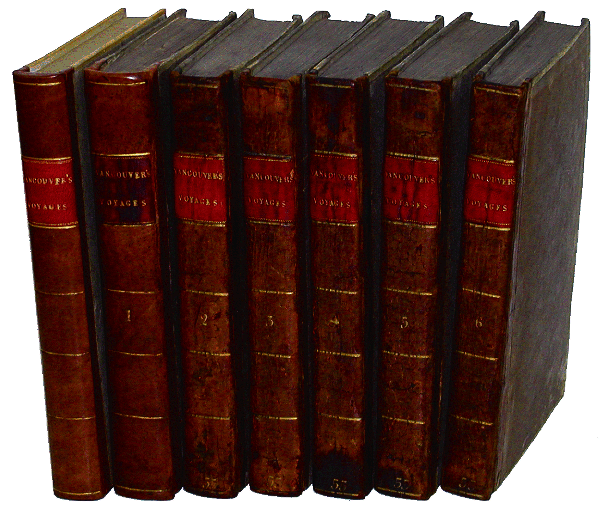 082 Vancouver, Captain George. A Voyage of Discovery to the North Pacific Ocean, and Round the World; in Which the Coast of North-West America Has Been Carefully Examined and Accurately Surveyed Undertaken by His Majesty's Command, Principally with a View to Ascertain the Existence of Any Navigable Communication Between the North Pacific and North Atlantic Oceans and Performed in the Years 1790,1791, 1792, 1793, 1794 and 1795, in the Discovery Sloop of War, and Armed Tender Chatham. London: Printed for John Stockdale, 1801. 1st Octavo edition. (Leatherbound) Very good. Octavo (14 X 21 cm.) 6 vol. 19th century half calf and paper covered boards. All board edges have been reinforced with vellum when the binding was done. Vol. one rebacked to match the set. Red leather labels. The contents are generally clean with some general soiling throughout. Plates have moderate foxing mainly to the edges. External joints a bit tender on the odd volume but not really a problem. A New edition, with corrections. 17 folding plates, 2 folding maps with large folding map housed in a custom slip case to match set. Large folding maps backed with linen at an early date. Back of the linen has been heavily stained but the front image is good. 10000.00
Hill p.304. One of the most important voyages made in the interests of geographical knowledge. Vancouver, who had been with Cook on his 2nd & 3rd voyages, was made commander of an expedition to reclaim Britain's rights after the Nootka convention. Sailing by way of Cape of Good Hope, Vancouver made his way to Australia where he discovered King George's Sound and Cape Hood, then to New Zealand, Hawaii, and the northwest coast of America. In three seasons work Vancouver surveyed the coast of California, visited San Francisco and San Diego, settled formalities with the Spanish at Nootka, investigated the Strait of Juan de Fuca, discovered the Strait of Georgia, circumnavigated Vancouver Island, and disproved the existence of any passage between the Pacific and Hudson Bay. The work would be completed by his brother John, assisted by Captain Peter Puget, George having died before the narrative was finished. Bookplate of R. Pilkington on the front paste down of each volume. This second edition like the first has become very scarce and has disappeared from the market.